May 25, 2016
Last week my company hosted alongside the Commonwealth Club of CA a panel on sustainability in fashion: "You Are What You Wear: Fashion Matters." A group of fashion and retail entrepreneurs and experts gathered to discuss how the fashion industry and consumers alike are working towards a more sustainable future.
With Levi Strauss & Co. as the event's sponsor, I had the honor of introducing the evening's panel, which included: Patti Cazzato, CEO, Timbuk2; Mike Natenshon, Founder and CEO, Marine Layer; Connie Ulasewicz, Ph.D., Professor, San Francisco State University, Researcher/Speaker/Author and Jason Kibbey, CEO, Sustainable Apparel Coalition, who served as the moderator.
Since sustainability is such an important dialogue and one of our design pillars at LS&Co., I was excited to hear other leaders address the issue. I found it interesting to learn that these particular brands also have a resounding rejection of the fast-fashion model and the challenges that model brings to natural resources.
We believe that designing for durability and quality is one of the most sustainable things we can do. Quality is built into the DNA of our products – they are designed to last for decades, not just for one season. Put simply, our products get better with age. It was interesting to listen to Jason Kibbey, who highlighted that longevity and being able to give multiple lives to a product is one of the ways to make it the most sustainable. The idea of consumers buying less and buying things of quality, which makes it more sustainable, was the consensus among the group.
I also appreciated the dialogue about waste as a resource. Connie Ulasewicz suggested that we focus on textile waste as a valuable resource to be used and recycled, just like glass and aluminum are today. "Textiles have a value even after their initial life," she explained. Currently, 4 percent of waste here in San Francisco is attributed to textiles. At LS&Co., we are working on ways to use post-consumer recycled materials in ways that will not diminish quality but that reduce our impact on the planet.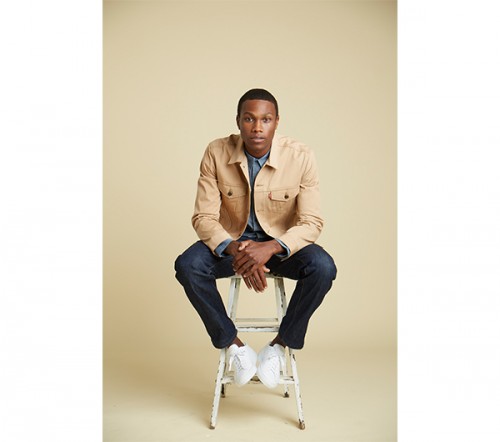 Model wearing clothing from the Levi's® WELLTHREAD™ Collection.
Patti Cazzato's comments about how we as an industry are used to being at the forefront of cultural trends and movements resonated with me. It's important to find ways to apply this understanding in a creative way to address sustainability challenges in the fashion industry. I think it is incumbent on us to find ways of making a positive impact on the people and communities who make our clothing.
The panel also discussed how transparency is the "next wave" in sustainability. Kibbey noted that the fashion industry is developing standard guidelines that will allow consumers to understand the impact of their products and companies' sustainability efforts. "Over the next three to five years, there will be a massive investment to make sure that this information is available to consumers," he said.
There's plenty of work to be done as it pertains to sustainability but I think we are making progress and I'm proud of the work we are doing in Water<Less™, WELLTHREAD™, and in our Worker Well-being programs. I'm also pleased with the industry's changing landscape of working together and sharing information to solve important issues. It's inspiring to see brands moving beyond being competitors to being collaborators. Again, transparency is crucial.
Cazzato summed it up perfectly, "The next wave to get sustainability to take hold in the fashion industry is to share what we know and what we're doing well so we can use it and other people can use it too."
Header Image (L to R): Becca Prowda (LS&Co. Senior Manager, Corporate Affairs), Una Murphy, Patti Cazzato, Mike Natenshon, Connie Ulasewicz,  and Jason Kibbey.
Click here for the full audio podcast of the "You Are What You Wear: Fashion Matters" panel discussion.