April 18, 2016
"Skateboarding saves lives" is something many professional skateboarders have said since the sport was first introduced in the 1970s.
In 2015, Levi's® Skateboarding traveled to Pine Ridge, South Dakota and experienced that mantra first hand. In an ongoing effort to support skateboarding in underserved communities, they helped finish the first skate park in Pine Ridge and built a brand new park in the neighboring town of Manderson with the help of the local Oglala Lakota tribe, Grindline Skateparks, and the Stronghold Society.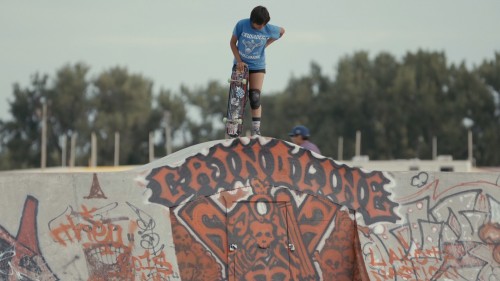 In a place where drug and alcohol abuse all too often gives way to depression and a higher-than-average suicide rate among reservation residents, the local skate park is seen as a concrete refuge for youth and a beacon of positivity to adults.
"The idea of having this place, this thing that is theirs, skateboarding, they take ownership of it," says Walt Pourier, president and founder of the Stronghold Society, in the latest documentary from Levi's® Skateboarding, Skateboarding in Pine Ridge. "It gives them hope, it plants a seed of something bigger for them. Skateboarding to them gives them that bigger interpretation of what we all know and what we've heard pro skaters say again and again: 'Skateboarding saves lives.' And you literally see that here."
https://youtu.be/gA_e9zEGAPY
Along with the build, Levi's® Skateboarding partnered with The Stronghold Society – whose mission is to inspire confidence, creativity, hope, and ambition for the youth of Native communities and non-Native communities through empowerment, arts programs, skateboarding and athletic activities – on the documentary as well.
The film – directed by Greg Hunt – has been accepted into several film festivals, including the Wild & Scenic Film Festival and next month's Telluride Mountainfilm Festival, among others.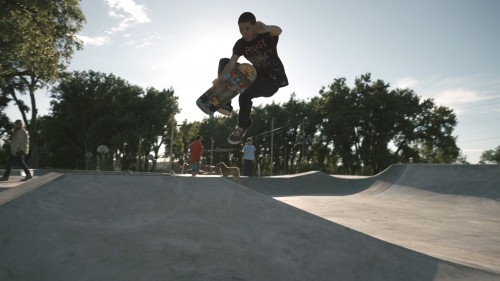 While the skate park build serves as the documentary's hook, the real story lies within those who use the park most often.
"When you enter the park, it's like a new world; it's you and your board and your family," says skateboarder Emily Earring in the film. "No matter how bad your home is or how bad your friends are, there's always skateboarding. Skateboarding never judges you."
For skateboarder Brian "Bubba" Sherman, it's even simpler than that: "skateboarding keeps us family."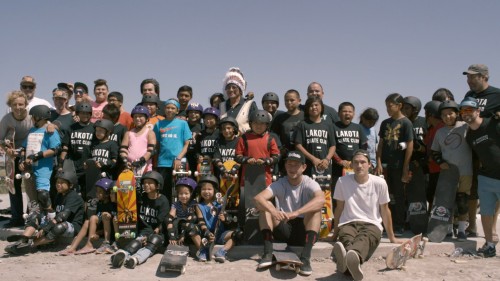 Catch "Skateboarding in Pine Ridge" on April 30 in Oakland, Calif., as part of the Wild & Scenic Festival, in May at the Telluride Mountainfilm Festival or watch it online now.