February 22, 2016
The recent emergence of the acclaimed TV show Transparent and celebrities such as Laverne Cox and Caitlyn Jenner have put a spotlight on the experiences of transgender people, bringing transgender rights to the national conversation.
Kris Hayashi—a next-generation social justice leader and member of our new class of Pioneers in Justice – Pioneers 2020—is keen to seize this moment as a critical opportunity. As Executive Director of the Transgender Law Center (TLC) in the San Francisco Bay Area, Kris aims to ensure this positive momentum continues off-screen, propelling justice in the community.


Kris recognizes the importance of powerful and diverse narratives to build empathy and understanding as well as bolster movements for transgender and gender nonconforming youth. This is why he is passionate about a new storytelling campaign called TRUTH, led by TLC in collaboration with GSA Network. TRUTH produces video profiles of transgender and gender nonconforming youth and their families, disseminates a Storytelling Toolkit that guides youth and families on the process of speaking out, mobilizes youth in a #transTRUTH Twitter campaign and educates media professionals on best practices of reporting on trans and gender nonconforming youth.
This is only one of many programs and services provided by the TLC, which strives to change laws, policies and attitudes to ensure that all people can live safe, authentic lives—free of discrimination on the basis of their gender identity or expression.
Levi Strauss & Co., through the Levi Strauss Foundation, has a deep commitment to support and lift the voices of marginalized communities, from integrating factories years before required by federal law, to forging the very first corporate response to HIV/AIDS, to emerging as the first Fortune 500 Company to offer domestic partner benefits for same-sex couples.
For the past twenty years, Kris has been steadfast in the pursuit of social justice. He has helped establish the TLC as a leading organization in the fight for civil rights. His current work focuses on elevating the voices of trans communities, particularly those who are most marginalized: people living with HIV/AIDS, immigrants and incarcerated people. Through Kris's leadership, the TLC works at the intersection of transgender rights and racial, economic and criminal justice.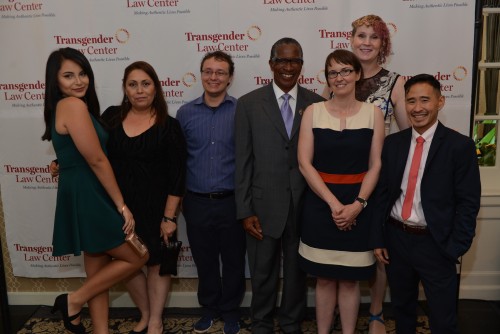 "From an early age, I understood that the world was not set up for gender nonconforming Asian kids like me to survive," said Kris. "Justice for transgender and gender nonconforming communities is close to my heart—and I won't rest until it is achieved."
Along with low-income transgender and gender nonconforming leaders of color, Kris successfully pushed New York City's welfare agency to pass a groundbreaking nondiscrimination policy—one of the first of such policies in the country. This ranks as one of his proudest moments as an activist.
At the TLC, he is determined to build on the organization's history of precedent-setting wins. "I get excited to come to work," Kris said of his current role. "When I think of what TLC does every day—from advocating for the rights of transgender women facing violence in immigration detention and trans people living with HIV/AIDS, to amplifying the stories of trans and gender nonconforming youth leaders throughout the country—I know there's no organization or movement I'd rather devote my time, energy and heart to."