February 3, 2016
During a week where sports fans are celebrating the athletes who have reached the pinnacle of their careers by making it to the Super Bowl, Levi's® was proud to be a sponsor of something that means so much to the community we live and work in every day.
The second annual Coaching Corps Game Changer Awards that aired Sunday night on Comcast SportsNet Bay Area (CSN), was focused on honoring the coaches and mentors who have made some of the most famous Bay Area athletes the players and people they are today.
From Stephen Curry of the Golden State Warriors to San Francisco Giants right fielder Hunter Pence, some of the most celebrated athletes in the country came out to thank the people they credit with making them great.

The event supports
Coaching Corps'
mission to provide youth from under-resourced communities access to trained coaches and the benefit of sports and team-based learning. Coaching Corps is made up of college students and community members who serve as volunteer coaches, mentors and role models in afterschool sports programs for kids living in our most under-resourced communities. To date
4,526 volunteers have changed the game for nearly 50,000 kids
. Their goal is to reach 300,000 kids through their program by 2018.
"Seeing the true impact that coaching and mentorship can have on a kid's life is a powerful reminder that it's not about money or having a certain pedigree," said Chris Jackman, senior director, Levi's® Global Consumer Marketing. "Sometimes all a kid needs is a small flash of inspiration, access to something they didn't have previously or some choice words of encouragement to lead them down a better path. Hearing from now-famous Bay Area athletes just reinforced how sometimes the small moments are the most pivotal."
Curry honored his Davidson College coach Bob McKillop at the event, "(You've) shown the world that it doesn't matter where you come from, you have the opportunity to be great at anything, on and off the playing field," Curry said. "Thank you very much. I wouldn't be here without you." No small compliment coming from a current NBA MVP.
Several other local athletes stood at the podium to say a few kind words about their own coaches and mentors. Pence honored his lifelong baseball mentor Chris Gay; A's catcher Steven Vogt recognized his father; 49ers receiver Torrey Smith honored his Stafford Senior High coaches John and Roger Pierce; and Raiders quarterback Derek Carr recognized his brother. Stanford women's basketball coach Tara VanDerveer was honored with the 2016 Coaching Corps Lifetime Achievement Award.
"The Game Changer Awards provided a special opportunity to see amazing athletes as real people," said Jason McBriarty, Director of Finance and Operations, Corporate Affairs and the Levi Strauss Foundation. "It was comforting to learn that despite their talent and achievements, they, like most of us, needed coaches along the way to help them succeed."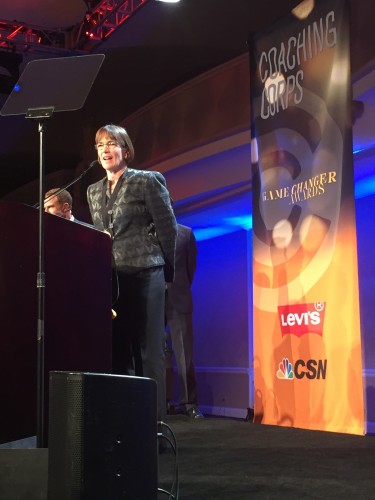 If you're interested in becoming a
volunteer coach
, check out the Coaching Corps website for ways to get involved.   If you want to be inspired, catch the televised version which will re-air on CSN. Visit
CSNBayArea.com
for additional airdates and times.
Like this story?
Sign up for the Unzipped newsletter to get the best of the Unzipped blog — company news and views, employee profiles, innovation and sustainability stories, behind-the-scenes and Archives highlights — sent straight to your inbox weekly.