December 9, 2015
When I was about 12 years old I had to write a book report for class. I was into sports so I chose the autobiography of Archie Griffin, a great college and pro football player (and the two-time winner of the Heisman Trophy). It turned out to be a lot more than an ordinary book report. It helped shape who I am and what I should hold myself to if I want to be a good role model.
Griffin talked about the three Ds that made him so successful: desire,determination, and dedication. Those words spoke to me so directly — and so powerfully — that I wrote them down on a piece of paper. I carried those words in my wallet for years as a reminder of who I wanted to be and what I wanted to stand for. But those are only part of the equation; I aspired to be the kind of person that others wanted to have on their team, that others wanted to follow. I wanted to be a role model.
Being a good role model is both a gift and a responsibility that can't be taken lightly. From my hard-working parents to other female executives, I've been fortunate to have great role models who have helped me personally and professionally. They've also helped me pay it forward as I strive to be my best as a role model for my two families: my children and husband, and the people who work for me at Dockers®.
I believe being a good role model has less to do with one's role and more about how you live your life, your relationships, and what you give to others. In addition to those three words I wrote down so long ago from my book report, I'd add four more traits that characterize great role models.
Honest
I'll always be grateful that my first role models – my parents – provided my siblings and me an environment to be truthful and honest. It didn't matter what you were up to as long as you were able to be straight about it. They taught me to learn from my mistakes and take responsibility for my actions. A good role model is honest with the people around them and creates that "safe space" for them to be honest, too. That leads to a powerful level of trust, which is the bedrock of relationships. You can't run a great organization without enormous trust between you and your colleagues, your partners and your customers.
Committed
Doing anything halfway is the same as not doing it at all. Good role models are committed to whatever they take on – particularly things that are tough or what they need to do instead of what they want to do. I still remember my mother signing me up to learn the flute in school, when I really longed to play the drums. It would have been easier for me to not make an effort to learn the flute, but I saw it through those first lessons. By sticking with something I didn't really like, I was able to figure out how to make the best of any situation. While I may not have learned to be a virtuoso on the flute, I learned a lot about myself in the process. It's something I try to pass on to my children and to my employees, because those situations where you'll be tempted to quit are the ones where you oftentimes end up learning the most.
Loyal
It may seem like a contradiction from a leader, but I believe it's really important to be a good follower, a good soldier, if you will. If the organization is marching in a certain direction, that's the direction you march. That doesn't mean you don't ask questions or offer alternatives – but it means that once the decision has been made you need to get behind it so you don't have people marching in different directions. In turn, good role models (and organizations) are loyal to those who follow them. Loyalty is earned, and it's earned by example. It's also important to be loyal to yourself. My dad used to ask me "Who's number one?" and the answer he expected was "Me". That's not ego. You have to be your best self to help others. An important part of being loyal to yourself is creating balance in your life. If I had to work all the time I'd be cranky, sick, stressed and wouldn't be there for my kids. If I never focused on work, I wouldn't have the kind of confidence I can pass on to my kids.
Accountable
No matter what you do, be accountable for your actions and your decisions. If you give your word, keep it. Do the right thing, even when it's the hard thing. And be who you are all the time – don't try to pretend you are someone you are not just to please somebody else.
Embodying these four traits will go a long way in helping you earn respect, and respect is one of the greatest gifts you can receive as a good role model. Overlay those traits with Archie Griffin's mantra of the three Ds – desire, determination and dedication – and you'll be unstoppable!
ABOUT THE AUTHOR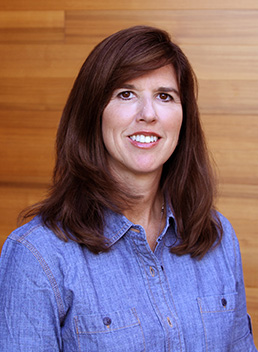 Lisa Collier is Executive Vice President and President, the global Dockers® Brand. In this position, she is responsible for managing the strategic direction, product development and marketing of the brand. She is also a member of the company's worldwide leadership team, which sets the company's global direction.
Collier has more than 25 years of experience in the apparel industry in a variety of roles, including general management. She joined Levi Strauss & Co. in 2003 and most recently served as senior vice president of product development, Global Supply  Chain. Prior to that, she led merchandising, licensing and End to End Supply Chain for the Dockers® brand, served as the general manager for Levi's® Australia & New Zealand, general manager for Levi's® U.S. retail and worked in product development for the Levi's® brand.
Like this story?
Sign up for the Unzipped newsletter to get the best of the Unzipped blog — company news and views, employee profiles, innovation and sustainability stories, behind-the-scenes and Archives highlights — sent straight to your inbox weekly.
This article also was published on LinkedIn, where LS&Co. leaders periodically share their perspectives and expertise on business trends, industry issues, careers and the workplace.