December 2, 2015
Throughout history, the moments sparking pivotal change aren't always those with the highest profile. Rather, they're instances when people stood up for themselves and resisted oppression.
The Stonewall riots of 1969 are one such example. The demonstrations by members of the LGBTQ community are widely considered to have set the stage for the modern fight for LGBT rights in the United States.
This important moment served as the creative inspiration for the 2015 Levi's® Pride collection and helped educate consumers and spark conversation about the origins of the LGBTQ movement. In addition, it was our honor to donate net proceeds from the collection to the Stonewall Community Foundation to support the organization's work in engaging the community, powering leaders and investing in grassroots LGBTQ organizations across New York City.
An Evolution Driven by Community Need
Stonewall was founded in the late 1980s, as a mysterious disease suddenly began claiming the lives of many in the LGBTQ community. At that time, Stonewall was giving grants to help key service providers build capacity. As the HIV/AIDS epidemic progressed through the decades, and LGBTQ people became more visible and organized, Stonewall expanded its focus.
"Stonewall's evolution has truly been driven by community need," said Jarrett Lucas, Stonewall's executive director (pictured below). "I am proud to say that today we fund in over 30 issue areas, across every strategy imaginable, and that our work centers on those in our community who face the greatest marginalization."
Today, Stonewall's footprint is national and it is one of the most prolific LGBTQ grantmakers. Last year, for example, they funded 119 groups and administered seven scholarship programs, including the largest in the country aimed at supporting undocumented LGBTQ immigrants. And while grantmaking is probably Stonewall's most public-facing strategy, Jarrett says, it isn't the only way the organization accelerates change in the community. They also network grantees and facilitate partnership and resource sharing, provide technical assistance, and curate events and giving circles — all with a four-person staff!
The organization's partnership with the Levi's® brand has had broad positive impact, according to Jarrett.
"When the donation arrived, I knew that my staff and I would be able to dedicate more time to mission delivery, to grant cycles and educational forums, to workshop planning and evaluation," he said. "Giving a nonprofit a chance to focus on its core competencies is perhaps the greatest gift of all. The other major impact is visibility. Being supported by a global business leader has brought exposure like we have never experienced. Ever!" 
Leading Stonewall in Jeans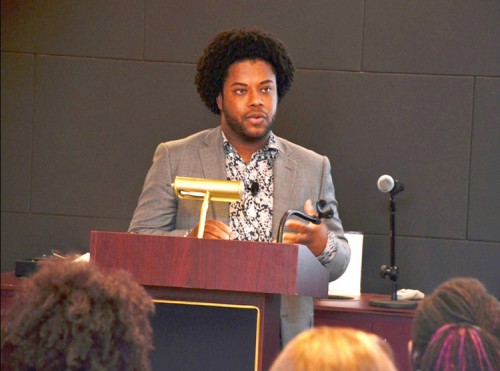 Jarrett came to Stonewall in 2010 as a consultant to launch an initiative to find and train LBGTQ leaders interested in board service, but largely underrepresented in the field, and connect them with nonprofits across New York City. After about six months, having "fallen in love with the people and the work," he came on full-time and was eventually appointed executive director about two years ago.
Through his work with Stonewall, this courageous leader is laying the groundwork for a lasting legacy he hopes will inspire the next generation of activists and advocates to discover new ways of understanding and opposing injustice.
"I look at the body of knowledge, wisdom, and courageous examples of leadership I have inherited as a queer person of color, and I can only hope to send similar gifts forward to those who come after me," he said.
As luck would have it, Jarrett is both a pioneering leader and an avid Levi's® fan. He likes the quality, style, and fit of the clothing, but it is the company's efforts to practice responsible corporate citizenship that make him a loyal customer.
"Some years back, one of my activist mentors taught me that with every dollar a person spends, they vote for the kind of world they want to live in," he said. "Because of that, most of the clothing I buy is used or resale. Levi's is a rare exception. The company's labor and manufacturing practices, social investments, and values stance are really admirable. I want to live in a world where big brands get it right and Levi's is setting a great example in that regard."
If Jarrett's Levi's® could talk, he says they'd tell you that he's kept up his end of the deal.
"They make me look good and I in turn treat them with respect and care, and buy more and more of them. It's a perfect symbiosis."
Like this story?
Sign up for the Unzipped newsletter to get the best of the Unzipped blog — company news and views, employee profiles, innovation and sustainability stories, behind-the-scenes and Archives highlights — sent straight to your inbox weekly.
Feature image credit: Anthony Quintano via Flickr CC