November 30, 2015
A New Holiday Tradition for Giving that is Free and Tax Deductible to Consumers
The holidays have long been a time of love, of laughter and of doing good deeds. I suppose those three elements are a big reason why this time of year is so special. We surround ourselves with those who are most dear to us, and we take time to help people who are in need of the things we take for granted.
Altogether, it really is a time of giving. But, let's face it: the holidays can also be a time of stress. With so much going on, it's easy to feel overwhelmed, especially if you're dealing with added stresses – such as finding a job to provide for your family.
Well, I'd like to let you know about a great way to spread some love and do a good deed — without raising your stress level! It's a way of giving that's easy to do. In fact, it's as easy as 1-2-3! I'm talking about Goodwill and several top retailers like Levi's Strauss & Co. using Give Back Box®, an innovative new tool for collecting donations. Here's how it works. First, shop online at Dockers.com or Levis.com. Next, when your package arrives, fill the empty box with items you no longer need. Finally, send it off to Goodwill using a prepaid shipping label.
It might surprise you to learn that this simple act of donating proves helpful in so many different ways. By donating clothes or other household items, you make good items available to be purchased by others. In fact, the average American household has $7,000 of unused and unwanted items. By donating these items, you can help fund skills-building, employment opportunities and job training services for people with disabilities and disadvantages. How? More than 80 percent of the revenue from the sale of those goods funds such programs. So, when you donate, you help to strengthen families and your community at the same time.
It's also a wonderful way to protect the environment. The items you donate don't end up in landfills, and neither do the boxes you used to send in your goods. Did you know that corrugated cardboard boxes are the single biggest component of municipal solid waste around the world? So, keeping all those boxes and donated items out of the landfills is one sure way to make your holidays green!
As if all that weren't enough reason to donate, LS&Co. is providing even more incentive. Throughout the holiday season, LS&Co. will give $5 to Goodwill for every box of donated goods, up to a total of $50,000. And tomorrow on Giving Tuesday, LS&Co. will double that contribution, to $10 for every shipping label that is used.
So, with just those three easy steps, you can help the environment by keeping items out of landfills, you can help your community by providing job opportunities, and you can help yourself and your family in a charitable, stress-free way. That pretty much defines the holidays, doesn't it? Love, laughter, and doing good deeds.
I truly hope you and yours have a wonderful, peaceful holiday season and that the New Year brings you untold joy and opportunity! To find out more about Give Back Box and all of our online retail partners, simply go to www.goodwill.org/givebackbox.
ABOUT THE AUTHOR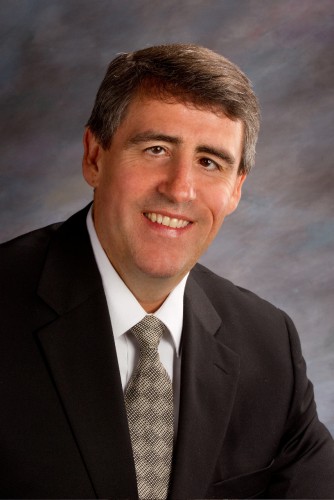 Jim Gibbons is the president and CEO of Goodwill Industries International, an internationally recognized leading social enterprise of independent, community-based organizations in the United States and Canada with a presence in 13 other countries. Gibbons earned his B.S. in industrial engineering from Purdue University, and a M.B.A. from the Harvard Graduate School of Business Administration, where he was the first blind person to graduate from the Harvard Business School.
Gibbons has received several awards and recognitions for his work, including the 2014 Distinguished Engineering Alumni Award from Purdue University, the 2010 National Jefferson Award for Greatest Public Service Benefiting the Disadvantaged, the 2010 SmartCEO EcoCEO award for organizational commitment to the environment, the 2009 Young Presidents' Organization Social Enterprise Leadership Award, and the 2007 Purdue Outstanding Industrial Engineer of the Year award. Appointed by President Obama, Gibbons is also a former member of the White House Council for Community Solutions (WHCCS), a two-year commitment that ended in 2012, which was created to provide skills and leadership opportunities to the 6.7 million youth (ages 16-24) are out of school and the workforce Gibbons writes for the Huffington Post and can be found on Twitter: @jdgibbons
Like this story?
Sign up for the Unzipped newsletter to get the best of the Unzipped blog — company news and views, employee profiles, innovation and sustainability stories, behind-the-scenes and Archives highlights — sent straight to your inbox weekly.