November 9, 2015
Q&A with Padmanaban Gopalan, social entrepreneur and founder, No Food Waste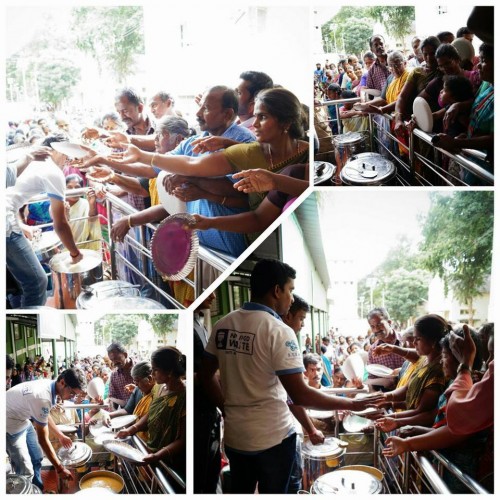 As a college student in Coimbatore, India, Padmanaban Gopalan observed something that alarmed him. He noticed universities, corporations and event venues in his city produced a huge amount of food that went to waste, while at the same time, many people in the city suffer from hunger (India is home to the largest number of hungry people in the world). Upon further research, Padmanaban learned in Coimbatore alone 9,50,000 kgs of good quality, leftover food from institutions goes to landfills every year.
Padmanaban wanted to do something to help bridge this gap, so he made it his mission to stop food waste in his city. The 22-year-old engineering graduate and social entrepreneur began collecting leftover food from local universities and large-scale events and repackaging it to feed to hungry people. He formed No Food Waste to formalize the effort, and started a hotline people could call for their extra food to be picked-up and delivered to local communities in need.
To date, the No Food Waste team has fed over 17,500 people in orphanages, homeless communities, shelter homes and low-income neighborhoods. Padmanaban also worked with more than 110 schools, institutions and organization to do "food waste audits" to monitor and guide them toward reducing waste.
This summer, Padmanaban received a youth environmental grant from The Pollination Project and Levi Strauss & Co. to support No Food Waste. He also recently received a Visionary Award from The Pollination Project in honor of the organization achieving a 1,000 grant milestone. The seed grant recipient with the most social media votes received the award, and Padmanaban received nearly 2,000 votes!
The 22-year-old social entrepreneur was kind enough to share with us why the issue of food waste is important to him and what he's doing to stop it.
Tell us about yourself.
I am very passionate about thinking and working on big ideas and strategies to help solve problems in society. Since my childhood, I've felt the spirit of social entrepreneurship and making change. In addition to No Food Waste, I'm the founder of SPICE Foundation – a social venture promoting alternative education, and a technology start-up called Utheta in which I lead a team of ten people. While I'm passionate about all of my work, there is something special to me about No Food Waste. I truly enjoy each time I go to pick up food and am able to feed the needy, even if it's late at night. I feel so much happiness in seeing hungry people with smiles on their faces and tears in their eyes, and eating these great varieties of food that they would have never eaten in their lifetime. I feel happy to be feeding people and not landfills.
Recently we have started a new project in Government Hospital, Coimbatore – where there are lots of low-income people who come for treatment; they can't afford Rs 300 a day for nutritious meal. So, we just opened up a "Feed the Need" food store inside, where serve an average of 200 plates of good nutritious food everyday.
How is the issue of hunger impacting India?
Approximately 214 million people in India are chronically food insecure — 46 percent of children in India under three years old are underweight, and nearly one-third of adults have a Body Mass Index (BMI) below normal just because they do not have enough food to eat. India has consistently ranked poorly on the Global Hunger Index, ranking 67th out of the 122 developing countries and countries in transition – slightly above Bangladesh and below Pakistan and Sri Lanka. In such circumstances, I see wasting a huge amount of food as a serious crime to humanity.
What is the relationship between food waste and hunger?
India is often called the land of feasts, fasts and festivals. It is estimated that around 943 tons of food every year is wasted from marriages that are held in the city of Bangalore. Just imagine how much food is wasted in schools, universities, functions, restaurants and other places! At many lavish marriages, more than 2,000 people are invited at the receptions where 30 to 50 dishes are served. It is impossible for anyone to taste this wide array of dishes. I believe it is a social crime as millions in the country are malnourished and go to bed hungry. We are trying to bring out an effective solution that anyone can do in any city to reroute the excess food to the needy.
Describe your biggest challenge so far.
Currently the biggest challenge is managing time to recover the food. Since the food collection is spontaneous and comes through the hotline, we have to move quickly so that food can be collected and be given out again before it gets spoiled. When I first started No Food Waste, getting volunteers was tough. Initially I carried food in shopping bags using public transport buses, but now many people have joined slowly after experiencing the happiness they feel by being a part of this project.
What are you most proud of?
If I would have gone for a different job after graduating from college, I could have only fed the four members of my family. But when I think that I have fed 17,500 people, it gives me a great inner happiness. There are no words to express this feeling.
What legacy do you hope to leave on the world?
Simple – no food waste and zero hunger. My success a day when I can shutdown my NGO. I wanted to create lot of local youth leaders in India, who work closely in their communities with the dimensional approach on making their communities better in Food , Shelter , Clothing , Health Care , Education , Connectivity , Income Generation, Sustainable Living, Social Equality , Environment (10 Dimensional Approach ).
This is part of an ongoing series designed to feature people who are changing the world. Our Modern Day Pioneers are impacting everything from culture to social issues to the environment, and they're challenging the status quo in a unique way. We hope these stories will inspire you and empower you to live your life to its fullest in Levi's.
Want more stories like this? Sign up for our weekly Unzipped email or view more stories from our Modern Day Pioneers series.