October 21, 2015
In the traditionally male-dominated sport of cyclocross, an all women's team with a propensity for winning races would stand out from the typical crowd … even if they weren't racing in jean shorts. Meet Team Jortz, a jean-shorts-wearing girls-only cyclocross team that's defying convention at every [muddy] turn.
For the uninitiated, cyclocross is an off-road bicycle competition where racers have to do as many laps as they can in 45 minutes whilst navigating a variety of terrain and obstacles. In any given race, racer might ride over dirt, sand, bark, grass or pavement, run up stairs or jump over barriers.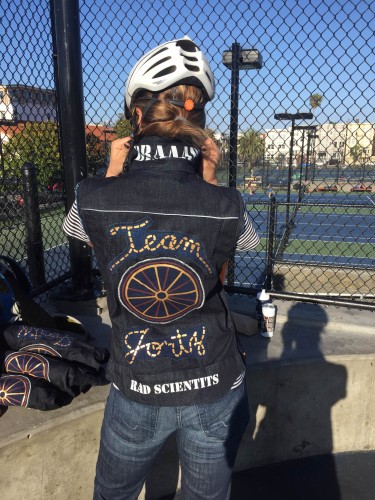 Team Jortz has gained notoriety for its successes on the course. They're also known for their unique racing uniform, which is a far cry from the typical skinsuits worn by most racers. Thanks to a collaboration with the Levi's® Tailor Shop, Team Jortz recently has taken its one-of-a-kind look to a whole new level.
To kick off the process, the Jortzers joined a team from the Levi's® Tailor Shop for a working session at our Eureka Innovation Lab, where the group brainstormed ways to put a unique Jortz stamp on pieces from the 2015 Levi's® Commuter collection. The finished product gifted to the team features custom artwork made into patches (complete with a Levi's® Commuter wheel incorporated into the Jortz logo) and screen printing — all completed in-house by the Levi's® Tailor Shop team.
We had the chance to chat with Jortzers Caitlin Trahan (aka Rad Scientits, pictured right) and Sam Bell (aka Cosmonaughty, pictured above, photo credit Jeff Namba) to learn more about the team, why they want more women to compete and how their jean shorts play into it all.
We take it a team of all women is not the norm?
Women-only is not the norm, but more unfortunate is women are not the norm in this sport! When Team Jortz initially started, we were a lone team of ladies looking to stand out from the typical cross crowd. Not to say we were the first all women's team, but at the time there seemed to be a lull in women enthusiastic about cross. Boy has that changed. Since our initial season, more and more women's teams are popping up and we couldn't be more stoked. We are hoping that this trend continues to grow the field of women racers.
Why is getting more women on the course important?
We want competition! We want local heroes! We want to show women a sport they'll love and a hobby that can save miles from your car! Cycling brings you a family when you move to a new area, and it can really change your life — what better way to combine socializing and exercising. And needless to say, we love the growing effort for bringing more women into the sport. With more women in the field, the energy put into the racing grows. This means more times for ladies to race along the day instead of all lumped together, better payout for the professional category and more.
We're gonna go out on a limb and guess racing in jean shorts also isn't typical. Why does the team ride in them?
The idea here was to show that cycling and riding fast don't have to be mutually exclusive. If you have a bike, you can race, if you have clothing that covers your shoulders (yeah, it's a rule for some racing) you can race. We don't want to turn anyone away from cycling because they have a bike but now need to spend $400 on the right gear to wear — you probably already have it. You just have to be ok with the fact that it might get ripped, it will get dirty, and you might get more questionable looks from a pair of jorts than skintight dayglo pink checkers … surprisingly.
How does what Team Jortz wears on the course influence people's perceptions?
I think there was someone who once said "it's not about the bike"… they'll remain unnamed but, it's true, and it's not about the kit either. The first race we attended as Team Jortz, we received hilarious looks and side remarks from a variety of competitors. We had our jorts on with extra fancy merino wool cut off sweaters from the local Goodwill. By the end, the two Jortzers racing were proudly second and third on the podium. Since then, we have evolved into a staple of the Bay Area Cyclocross community. We've said it for a while; there's winning and then there's winning in jorts. There is no better feeling.
How did the team get connected with Levi's®?
Team Jortz attended the Levi's Commuter release party in San Francisco. After a few rounds of GoldSprints and a few local beers we decided that the best idea was definitely to talk business. That's where we met Laura from the Levi's Tailor Shop. She was really interested in working with us and to see what the possibilities could be. It was really fun and we connected after the event to seal the deal.
Tell us about the riding kits the Levi's® team customized for you.
The kits are amazing. Our Jortz were custom fitted at the Levi's Tailor Shop. Starting with the shorts, we added a tasteful "Team" on the left butt pocket and "Jortz" on the right. Moving up to the matching vests, or podium vests, we have our individual nicknames printed on the bottom of the back side.  At the center we have "Team Jortz" in gold faux stitching which takes up a majority of the backside realty. On the collar we have written "BRAAAP" underneath so that flipped up it is read with respect. Now turn to the front, we had a Jortz superfan donate Paragon Machine Works titanium bottle opener, which is sewn on the inside via lanyard so we are ready to go at any minute. Above the left breast pocket, we proudly have a classic Levi's logo.
If Team Jortz' Levi's® could talk, what would they say?
They would just let the "BRAAAP" speak for us.
Fill in the blank. In our jorts we are: Sorry about the dust.
To learn more about Team Jortz, visit their website or find them on Facebook.

Like this story?
Sign up for the Unzipped newsletter to get the best of the Unzipped blog — company news and views, employee profiles, innovation and sustainability stories, behind-the-scenes and Archives highlights — sent straight to your inbox weekly.