October 16, 2015
Earlier this week at The Bowery Hotel in New York City, Daniel Lee, Executive Director of the Levi Strauss Foundation, shared a stage with Mercado Global artisan Delia Mendoza and cookbook author, actress, model, television host and executive producer of Bravo's Top Chef, Padma Lakshmi (pictured L to R above). Both Padma and Levi Strauss & Co. were honored at Mercado Global's 10th Anniversary Gala celebration.
Mercado Global, a Levi Strauss Foundation grantee, seeks to break the poverty cycle by empowering women around the world. Much of its work happens in Guatemala, where the company has enabled indigenous women artisans to sell their products in the global market.
Levi Strauss & Co., through the Levi Strauss Foundation, has supported Mercado Global since the organization's early days and over the last 10 years has invested over $1 million.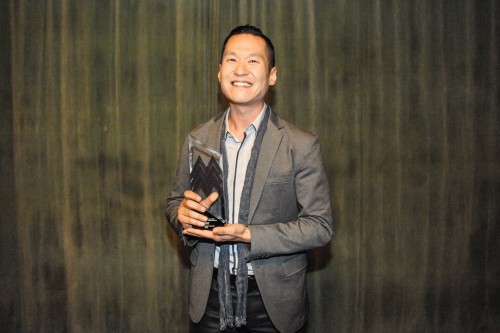 During his award acceptance, Daniel shared with the audience that Levi Strauss & Co. and the Levi Strauss Foundation are both guided by four values: originality, integrity, empathy, and courage. These values drive not only how the company does business, seeking to clothe the world with iconic, durable and sustainable products, but also how it aims to push the frontiers of social change in communities around the globe. To achieve this we rely upon pioneering community partners like Mercado Global.
Daniel also noted he believes Mercado Global is successful "because the organization has managed to elevate the idea of what fair trade fashion can be — by designing beautiful, timeless pieces that people covet — and that happen to look great with a pair of jeans — especially Levi's® jeans."
When fellow honoree Padma Lakshmi took the stage to accept her award, she noted that it was an honor to be named alongside Levi Strauss & Co. and that her favorite jeans for decades has been a pair of Levi's® jeans.
We are proud to have been woven into the fabric of Mercado Global's success over the last 10 years and look forward to the bright future that lies ahead.
Like this story?
Sign up for the Unzipped newsletter to get the best of the Unzipped blog — company news and views, employee profiles, innovation and sustainability stories, behind-the-scenes and Archives highlights — sent straight to your inbox weekly.