August 24, 2015
At first glance, the box looked unassuming. But Matt's wife and parents were practically giddy with excitement over the small denim-wrapped Christmas gift. He wasn't sure what to expect, and he certainly didn't imagine its contents would change his life.
As he peeled the fabric away from the box, the 44-year-old from Tunbridge Wells, England, got his first clue: a Levi's® logo. Inside, he found a blue denim pocket containing a gift card.
Before Matt could say anything, his wife Vicki cut in. This, she explained was no ordinary voucher card. It entitled him to a pair of Levi's® Lot 1 jeans, fully customized and made-to-fit especially for him at the Flagship Levi's® Regent Street store in London.
That's when he got emotional.
Verklempt Over Pants
Matt's strong reaction may seem a little extreme, he says. But for him, the gift was deeply personal and represented a solution to a years-long struggle.
In 2011, Matt found himself unexpectedly hospitalized by a serious infection in his left leg. It took specialists three days to diagnose the issue and there was even brief talk of amputation at one point. The very painful and debilitating episode was followed by a condition called lymphedema, which resulted in swelling in his left leg that made it much larger in mass than his right.
In addition to the pain, there was another unexpected and frustrating side effect of the condition.
"I haven't been able to buy jeans or trousers off the shelf from any store," he said.
This hadn't been for lack of trying. Matt hunted tirelessly for wide-fit jeans that were long enough to accommodate his 6'3" frame — all to no avail. The pants he found had huge waists and short legs.
"I would have to take these jeans fit for a circus clown to be altered, which is difficult as not many tailors will alter jeans," said Matt. "Therefore, I have not owned a pair of jeans that I feel good in, that fit me properly for over four years."
That is, until he received the gift of Levi's® Lot 1 jeans.
"Vicki [my wife] realized that this was probably the only way I could ever wear a decent, fitted pair of jeans again," he said.
Smart, Confident and Walking Tall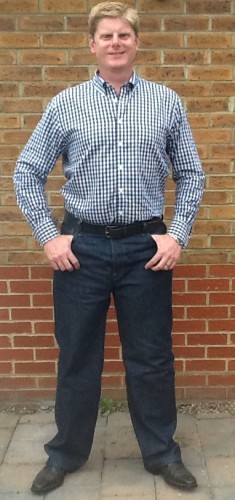 Matt found the Levi's® Lot 1 process very exciting. He met with Elizabeth Radcliffe, a Levi's® Master Tailor, who led him through the process of selecting material, thread, buttons, pocket shape and size, leather patch and a Levi's® red tab for his custom jeans. From there, Elizabeth took his measurements to ensure the pant legs were even and would conceal the uneven size of his legs.
"Elizabeth was very understanding, discreet and absolutely lovely," Matt said. "She understood how important the jeans were to me and demonstrated how knowledgeable and passionate she is about Levi's and her job to both my wife and I. She made the process even more special."
A few weeks later, he received his new jeans in the mail. Immediately, he ripped open the package. The moment he tried them on was a life changing one.
"It may sound overdramatic, but I felt like me again for the first time in four years — smart, confident and walking tall," Matt said. "It's not about fashion this time, it's about how a decent-fitted pair of good quality jeans has made me feel normal again."
Matt says he loves that his Lot 1 jeans are unique to him and thanks his wife, parents and Elizabeth for his perfect jeans.
"I will wear them with pride for years to come … until I order my next pair of course!"