June 23, 2015
LS&Co.'s Anna Walker Selected to Join Aspen Institute First Mover Fellows Program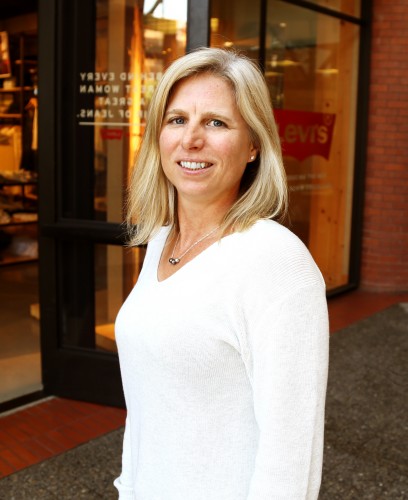 Leading sustainability innovators have one thing in common: Employees who are passionate about creating positive social and environmental impacts. LS&Co. is no exception, and we're thrilled when our leaders have the chance to fuel their sustainability interests in unique ways.
The Aspen Institute Business and Society program's First Movers Fellowship is one such opportunity. We announced today that Anna Walker, senior director of global policy and advocacy, has been selected to join the program's seventh class. As a First Mover Fellow, Anna joins an impressive roster of sustainability innovators, including Paul Dillinger, our head of global product innovation, who had a fellowship in 2012.
"Being a First Mover Fellow offers an unparalleled opportunity to collaborate with a team of thoughtful and innovative corporate leaders from across the industry," Anna said of the fellowship. "I'm excited by the opportunity to think creatively about the potential for change on key issues we're addressing in the apparel supply chain."
During their fellowship year, Fellows undertake a 'next stage innovation project' that helps their companies integrate profitability and social/environmental value. The goal of Anna's project is to create a more sustainable apparel industry in developing countries. She'll focus her efforts on identifying financial and business incentives to help governments and local industry develop sustainability infrastructure, including wastewater treatment, energy and waste disposal.
"A few years back, Levi Strauss & Co. was addressing water treatment and waste disposal issues for the apparel industry in Lesotho. At its core, they weren't issues of intentional mismanagement by the local industry or negligence, but rather lack of adequate local infrastructure to support sustainable growth and development of the apparel industry there," Anna said. "Lesotho isn't the only place developing apparel and electronics industries with underdeveloped industrial infrastructure."
Anna said her project will seek to identify partners and solutions for these infrastructure challenges so governments and industries can develop sustainably — creating a race to the top in apparel production and industrial development.
She'll explore new solutions in areas like lending to determine, for example, whether multilateral development banks like the International Finance Corporation, World Bank, and African Development Bank can expand lending into industrial water treatment and disposal facilities.
"The employment opportunities from a growing apparel industry helps raise a country's economic development and reduce poverty, but it shouldn't be at the cost of the environment," Anna said.
Congratulations, Anna!