February 2, 2015
Samantha Wendell has always had the ability to capture the emotion and humanity of society's icons on canvas. At the age of ten, she began penning photorealistic depictions of actor's faces, much to the amazement of those around her. In high-school, she sold life-like illustrations of rock 'n' roll superstars like the Beatles and the Rolling Stones—that she drew while sitting in the back of her school bus.
After art school in California and classical portraiture training in England, Wendell honed her craft by painting 18 x 24 foot billboards in her home state of California. She soon found a niche for portraiture in the sports world. As part of the athlete-meets-art empire, Sports & the Arts, Wendell began rendering athletes ranging from her very own L.A. Kings to professional golfers in her distinctive style of figurative realism. She also served as a portrait artist to the stars. Michael Jackson ("He was so fun to work with," she says), Stevie Nicks, The Grateful Dead, and Jefferson Airplane (her favorite band of all-time) have each been beloved clients.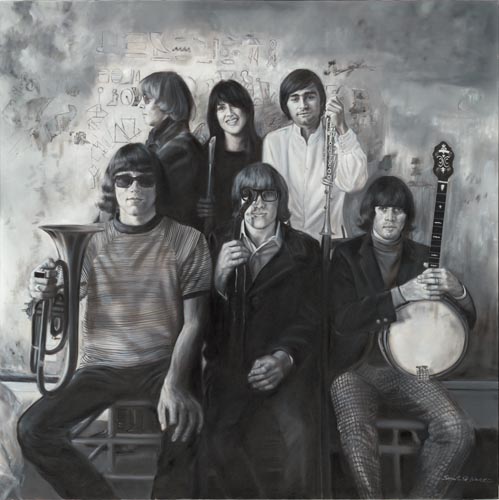 Wendell most recently put her portraiture prowess to work by creating 49ers-inspired masterpieces—including portraits of some of those aforementioned musical groups—for the Levi's Stadium Art Collection. As part of our series on the stadium's artists, we asked Wendell to fill us in on her journey.
How do you decide what to paint?
In the rock 'n' roll era, I used to paint pictures from magazines. Today, with all the copyright laws, I have to take my own pictures. I like to do portraits that are not posed. I like to paint very intense faces, whether they are stuck in the penalty box or sitting on the bench, in an argument or ecstatically happy.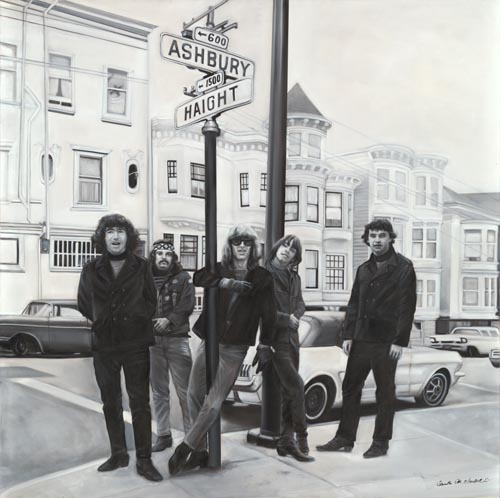 What is your process?
First, I get prints of the photos in all different sizes, so I can finalize the layout before I start. You have to put the photos in the right spot before you can put the paint in the right spot.  And dimensions are very important. Someone wanted me to paint a 3 x 4 foot portrait of a Chihuahua and I said, "No, it is going to look like a Martian!"
Once the layout and sketching are done, I paint starting from the outside and work in. I go in a circle, starting at the edges going around and around for days at a time, while the parts that I need to dry are drying. I save the faces and the tiniest parts of the painting until the very end.
Tell me about some of the work you have in Levi's stadium?
One piece I worked on is called the Million Dollar Backfield. It came from a sepia-toned photo of all the famous guys on the first team, with their leather helmets, way back in the day. That was the one photo that the team insisted on.
Then, I duplicated photos of the most famous coaches. The quality of the images I worked from actually tells a story, and shows the evolution of the photography throughout the years. They go all the way from black-and-white to the Kodachrome look to high-def. Harbaugh is photographed in high-def, so I painted him in high-def.
And then there are the diptychs. I call them my Shipping and Receiving. I did two side-by-side portraits of the same running back, receiver, and quarterback—the top stars. Those are some of my favorites, because you can really tell a story with those ones.
Would you say this work is in line with other work you do?
It is. Except that I wasn't able to paint one spectacular rock 'n' roll live shot.  There is still potential to do that for the stadium down the line. One other thing is that I have always wanted to paint scenes from movies, freezing a favorite scene and then painting it. But because of copyright laws, it would have to be a legacy painting and not make any money. Someday, though!
What did it feel like to be chosen to exhibit in the Levi's Stadium Museum?
Having my art in Levi's Stadium is a great honor. It's wonderful having it where people can see it. They don't have to get all dolled up and go to a gallery and pretend they understand art.  I used to think, "If I am not in a museum, I am not an artist." But nowadays, my art is in the world, where it belongs.
Back in the day, Jacques-Louis David painted Napoleon. Everyone painted kings. That is pretty much what I set out to do. Years from now they will say, "Oh, that is who they painted: sports people and rock stars." These are the kings of our era.