January 20, 2015
Levi's® Stadium artist Jenny Kompolt's message? Everything and everyone has value. The assemblage artist—and self-confessed 501TM fanatic — credits her passion and practice with saving her from the self-esteem issues that she struggled with in childhood. Her own personal experience of finding a new beginning is mirrored in the artwork she creates, which often includes broken, rusted, and weathered objects, with a story to tell.
Kompolt's ten pieces in Levi's Stadium are no exception. They repurpose historical totems from Candlestick Park and the Bay Area area into unique works of craftsmanship. As part of our Levi's Stadium Artist Series, Unzipped sat down with Jenny and got the scoop on her journey, her jeans, and her passion.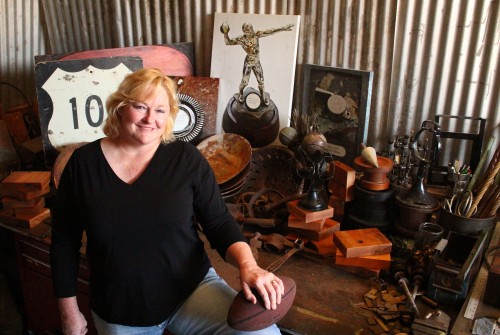 How did you become an artist?
I started creating art seven years ago.  I am challenged with anxiety and depression. A therapist led me in the direction of doing art to process what I was working through. I was tentative. I can't paint. I can't draw. But assemblage spoke to me.
As a kid growing up, when I needed to break away from what I was dealing with, I would go to a creek and find treasures: rusty things, stones, whatever I could find. I kept them in a box and hid them. I started doing assemblage with this mind, finding worn pieces and parts, and putting them together to become something new.
My company, Junk Girls, is all about finding the beauty in what was cast-off —'ordinary' if you will. It's a metaphor to what makes my life important: There is beauty in everything, no matter how damaged.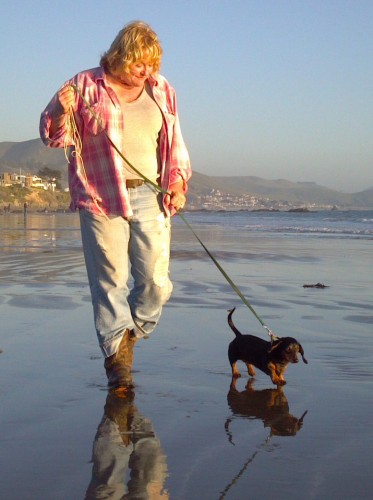 Tell me about a few of the pieces you have in Levi's stadium.
One of the things I did was a series of gold pans. I found them from all over the United States. I got twice as many as I needed so I could pick out the ones that really said something to me, where I could see the rust patterns and how the water had been swished around in them. When I saw them installed on the wall in the stadium, I literally had tears in my eyes.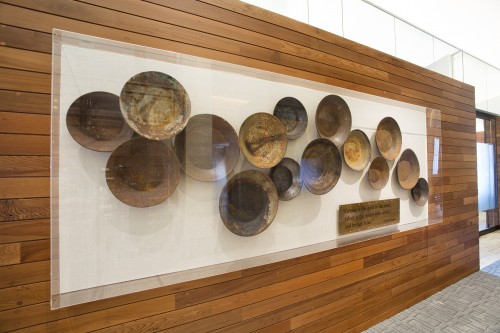 Another piece that I worked on was a six-foot running back silhouette. I took antique worn-out leather footballs that would have been thrown out and cut them in such a way that I could mosaic with the leather. The wear really told the story — like the tear on the football player's knee where one of the balls was literally worn through.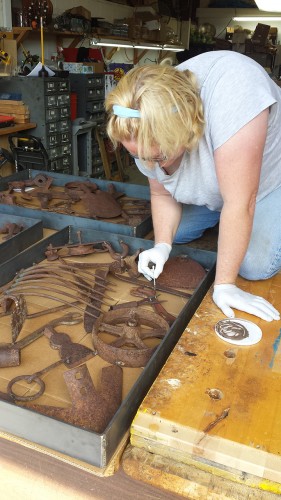 I am a huge Levi's fan, so when they asked me to do a 49ers helmet made out of Levi's, I said "Absolutely!" Every pair in the piece was my own 501s. There are rips and marks in the artwork that I remember making myself.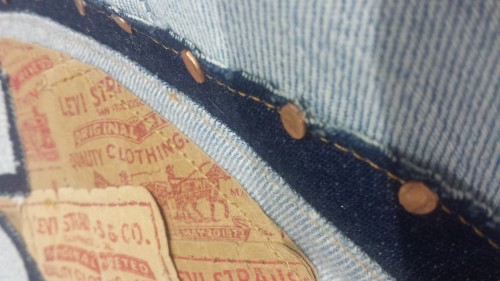 What was the most rewarding thing about being a part of Levi's Stadium?
First of all, to be recognized and chosen by Sports & The Arts and to be among such incredible talent was such an honor. That said, I hope that my work in the stadium helps people to see the Junk Girls' story, and that we give people inspiration. Our ultimate vision is to have other people help us to build and make products, thereby fostering and creating jobs. We want to build a workforce that shows that everybody is a maker and everybody has a talent and a story to tell, and everything has a heartfelt message and a reason behind it.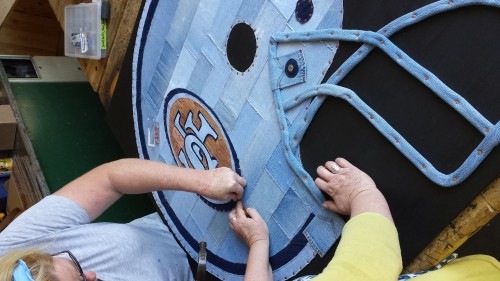 And you're a die-hard Levi's fan?
I've always been a Levi's girl, that's all I wear: workboots, my 501s and a T-shirt. Then I cut them off when I need shorts. When they wear out, I set them aside, but never let them go, cause they're like old friends.
For more on Jenny's art and design work, follow her on Twitter @jennykart.