January 12, 2015
Neil Bell, Levi Strauss & Co.'s Global Fabric Innovation Manager, says that if you want innovate, there's no better place to do it than LS&Co. "We've been innovators for more than 150 years," Bell recently told Unzipped. According to the textile technology guru, it is the "atmosphere of openness, no fear, and of giving people the ability to have freedom of thought and expression," that drives LS&Co.'s success, as the company constantly pushes for new ways to use textile technology to benefit customers and the environment alike.
We asked Bell to recap some of the biggest breakthroughs in denim in 2014, an exercise that required the extreme forward-thinker to "rewind a little bit"—he typically works two years ahead. Below, a look back in time at some of the year's biggest and best blue jean breakthroughs.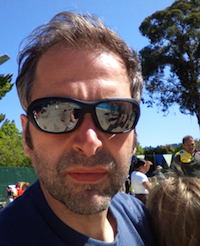 Neil Bell @indigomapper
1. STRETCH AND RECOVERY
"Stretch and recovery is all about making your jeans fit better and perform to a higher standard," said Bell. Particularly in womenswear, manufacturers focused on fit, which equated to dynamic stretch and increased strength. Bell said this was achieved through blending together different fibers that improve stretch—what fabric technologists refer to as "the science of stretch."
The continued popularity of form-fitting skinny jeans is one customer preference driving this innovation. Bell said the Levi's RevelTM jean is a perfect product to embody this breakthrough, with dynamic body-shaping technology and four-way stretch. "It took us a long time to figure out how we were going to make a jean with very good recovery," said Bell. "And as soon as we started telling the consumer that we made a jean that fits really well—boom! The market took off."
2. INCREASED STRENGTH
Improving strength and durability in denim was another big focus of 2014 manufacturers. "This is the Dyneema story," said Bell. "It is all about developing fabrics that have inherent strength." Dyneema is a man-made fiber designed for ultimate durability, used for high-performance sports, industrial purposes, and even armor. When Dyneema constitutes a mere 4% of the fiber makeup of a pair of blue jeans, it increases their life by two-and-a-half times. That's an innovation that benefits consumers and the environment alike.
3. KNIT DENIM
Bell said that the boom in activewear has caused denim retailers in general to look towards using knit technology to create jeans, as customers look for soft and relaxed options in their denim wardrobe. "In 2014 we saw activewear and knit technology coming into denim." This advance came from customer's increasing desire for softness. "People were looking for a casual and relaxed jean," said Bell. This softness, however, somewhat contradicts the strength and durability story, showing how two opposing trends can thrive in the same market.
4. PERFORMANCE DENIM
Not only is the Levi's CommuterTM jean monumental in supporting a modern urban lifestyle, one that saves energy and decreases pollution, but Bell said the idea of having water repellency on the surface of a jean was also a massive 2014 milestone.
Unzipped asked Bell, what drives these innovations? Is it the consumer's needs or the technology he develops? Is it the rapid breakthroughs of the research institutes and fiber science companies that he works with—not to mention LS&Co.'s own Eureka Innovation Lab—or societal trends and consumer lifestyle?
According to Bell, the two forces are inextricably related. "The consumer is looking for technology," he said. "They're looking for stories and something exciting within their product. They expect us to provide that innovation. And here at LS&Co., we are always at the breakthrough point." Needless to say, we can't wait to see what 2015 has in store.
Follow Neil Bell on Twitter @indigomapper for the latest in denim and the apparel industry.