November 2, 2014
Q&A with National Novel Writing Month Executive Director Grant Faulkner
This is part of an ongoing series designed to feature people who are changing the world. Our Modern Day Pioneers are impacting everything from culture to social issues to the environment, and they're challenging the status quo in a unique way. We hope these stories will inspire and empower you to live your life to its fullest in Levi's. Have someone we should consider? Email us! Follow the Modern Day Pioneers series here.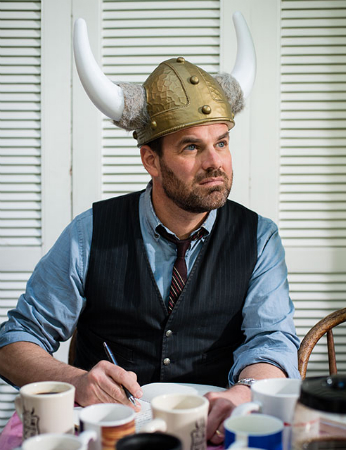 Let's begin with a 100-word intro (the reason will soon reveal itself):
Can writing change the world? We think so. Take The Republic, The Odyssey, 1984, the Dictionary … you get it.
The written word has the power to spark ideas, inspire revolutions, and transform viewpoints.
Grant Faulkner is a "length-agnostic" champion of written storytelling. As National Novel Writing Month's Executive Director, Grant helps encourage long-form writing. Conversely, he also co-founded 100 Word story, a lit journal of 100-word essays.
We were ecstatic to learn this Modern Day Pioneer does most of his writing in jeans. He spent a few minutes filling us in on how his work is making a difference.
What work have you done that you feel has had the greatest impact?
I'm blessed to be executive director of National Novel Writing Month, which helps nearly 500,000 people, including 100,000 kids and teens, realize their creative dreams each year through a simple challenge: to write 50,000 words of a novel in 30 days.
Humans are naturally wired to tell stories because that's how we make meaning of the world. So everyone has a story—or many stories—to tell. One of the unfortunate things about life, though, is that our to-do lists tend to get stacked with things that have little to do with creativity. Too many people say, "I'm going to write a novel someday." When is someday?
At National Novel Writing Month, we believe in setting audacious goals. We believe deadlines are the midwives of grand creative acts. We believe that a community of support helps people find themselves as creators in magical ways. When a story comes to life, especially a whole novel, it's such an amazing, transformative experience. People who embrace their creativity become better parents, children, employees, and leaders—they become better people.
You also co-founded 100 Word Story. How do such tiny stories fit with the big stories of National Novel Writing Month?
I like writing and reading in a lot of different forms, and I think each form influences another in vital ways. For example, so much of telling a good story is determined by the things you leave out, so writing and editing tiny stories has taught me how to tell stories through what's unsaid as much as the text on the page.
One of my favorite things about 100 Word Story is also one of my favorite things about National Novel Writing Month: they both help people who might not otherwise call themselves writers become writers because they make writing accessible. We've heard from teachers who teach 100-word stories in prison programs and high-school GED classes, and they tell us they love the form because it's not intimidating. Its brevity is an invitation to writers to give it a whirl.
What's your advice to someone who wants to leave their mark on the world through writing?
Start writing. Now. Write with moxie, with derring-do, with abandon. Don't let anyone tell you you're not a writer because the definition of being a writer is to write.
Also, the great thing about writing is that you "leave your mark" through the practice of doing it. Writing heightens your sense of the world around you and within yourself. You notice things, you notice yourself, you seek new experiences. So I advise people to write in pursuit of truth, not publishing glory; write to connect with others. Your mark will follow.
Do you remember your first pair of Levi's?
I grew up watching westerns on TV, so I loved horses from as early as I can remember. Horses represented adventure, strength, and grace to me. I collected horse figurines, and dreamed of having a white horse one day. I never got the white horse, but my parents indulged me with riding lessons.
Each week I went to a stable to ride, and I noticed that everyone there wore jeans with a curved "V" stitched onto their back pockets. Naturally, I needed the proper attire of a true cowboy, so my mother bought me a pair of what I later learned were Levi's.
It turned out I preferred the vestments of a cowboy more than the reality of it, so it was only fitting I turned to fiction.
What do you enjoy doing in your jeans?
Denim constitutes my weekend outfit, and I do most of my writing on the weekend these days, so jeans and a denim shirt are basically my writing outfit. I like how my denim shirt has pockets for my pens and scraps of paper, how I can thoughtlessly spill coffee in between thoughts and it doesn't ruin my jeans. I like how I can wake up and walk the dog in the same clothes I go out to dinner in later that night.
I've always liked things that look better with age as well. A bit of fading and frayed edges add nuance and flavor — to stories and clothing. My favorite pair of jeans are speckled with various paints and who knows what else. They're like a scrapbook of different creative projects.
What legacy do you hope to leave on the world?
I want everyone to be creative in some way every single day — to see themselves as vital creators, not passive consumers. When people are creative, they're just so much more wonderfully alive to the world around them.
It's a tough thing to live your dreams, to do something that can seem so odd to others, like write a novel in a month, but what's life if we don't tell our stories?
I still like dressing up like a cowboy. I want everyone to dress up like a cowboy. You don't have to be on a horse to ride one.