July 18, 2014
A little more than a year ago, Levi Strauss & Co. employees came to work on one of the most-loved days of the year here — Community Day — to find a surprise was in store for them. On May 8, 2013, CEO Chip Bergh took the stage during our annual day of service and announced that Levi's® had won the naming rights for the new 49ers stadium, making the team's new home none other than Levi's® Stadium.
It was the start of a perfect partnership, and yesterday we celebrated a new milestone with the ribbon-cutting of Levi's® Stadium (watch it in full on 49ers.com). It took a mere 819 days to build this state-of-the art venue that will give our fans — both 49ers and Levi's® — a best-in-class experience. As Chip said during yesterday's ceremony: "We both have some of the greatest, most engaged, most loyal fans in the world. Our new advertising campaign is all about how people live their life in Levi's. … What better place for everyone to show how they live in Levi's than at Levi's Stadium." And come August, fans will have a new way to live in their Levi's® with the launch of the Levi's x 49ers Collection — Trucker jackets updated to incorporate the Niners' logo and colors.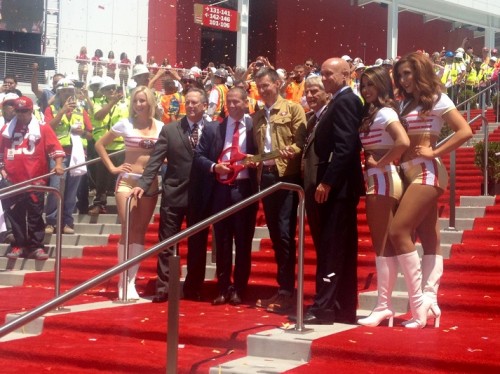 Part of what sets Levi's® Stadium apart from other stadiums around the world is that it's built on  innovation and sustainability — two priorities that are the lifeblood of our organizations. A mobile app will allow guests to order food and beverages (with in-seat delivery!) and check out how long the lines are for restrooms and concessions stands. And on the NRG Solar Terrace, fans can enjoy a beverage in the sun while taking in the sights and sounds of 49ers football — all while enjoying the view of 16 varieties of native Californian plants. (You can read more about the sustainable aspects of the stadium here.)
It's this shared focus on our fans and doing what's right that makes our partnership so ideal. "It's more than putting your name on a building," said Jed York, CEO of the San Francisco 49ers, about Levi's® lending its name to the stadium and other key partners. "…it's really about connecting your company, your thoughts, your technology with the San Francisco 49ers and with this community and making sure that we build something that's going to last for decades and decades to come."
NFL Commissioner Roger Goodell echoed York's sentiments. "What I find so tremendous about this stadium — and what I think is usually the successful recipe for great facilities — is when they reflect the communities that they're a part of. And this does. The sustainability. The technology. Those are things that are so much a part of this community … and I think that's why this is going to be a very successful adventure."
Today's ceremony ended with a celebration of the men and women who truly made it happen. It took more than 7,780 construction workers to build Levi's® Stadium from the first beam to the last, and so it was the construction workers who got the final spotlight before the ribbon was officially cut.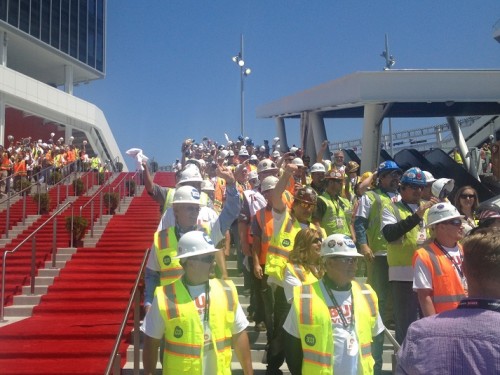 Nearly 1,000 construction workers — many of whom were wearing Levi's® — lined the stairways leading to the stadium, cheering along with the crowd who jumped to their feet in appreciation and respect. After a quick countdown from 10 by the construction workers and audience, the ribbon was officially cut.
Levi's® Stadium is now officially open for business.