October 25, 2013
The word "football" means one thing to people in the United States and quite another to folks in, well, most of the rest of the world.
That makes what's happening in London this week all the more interesting.
The San Francisco 49ers are currently in Europe to do battle against the Jacksonville Jaguars. The game takes place Sunday at London's Wembley Stadium. It's part of the National Football League's International Series.
Yes, American football, played in a country where "football" means what my United States colleagues call "soccer."
As part of their week-long visit to what's widely regarded as the birthplace of soccer, the 49ers teamed up with the Tottenham Hotspur Football Club to host a "Community Monday" event at the Spur's training ground at Enfield, north London.
The event combined the strong brands of the 49ers and Spurs with the active involvement of players from both teams. The goal was to promote physical fitness and healthy lifestyles to low-income youth from a local academy.
The 49ers are the home team of Levi Strauss & Co. And as the proud sponsor of the Levi's® Stadium, the company was invited to participate in this unique community initiative.
After a quick physical fitness and nutrition presentation, students were given the opportunity to take part in a series of American football and soccer drills led by members of the 49ers and Tottenham Hotspur squads.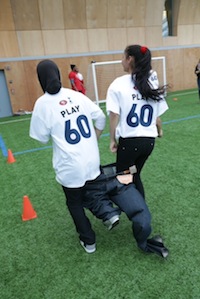 The youngsters also had lots of fun at the Levi's® relay race station, where a few tumbles, lots of laughs, and teamwork were the order of the day as teams of two students shared a pair of Levi's® jeans to race against the clock (and each other!) in this twist on the traditional three-legged race.
Never ones to turn down a challenge, visiting 49ers players also tried their luck on the race course – with mixed results!
Community involvement is part of the Levi Strauss & Co. DNA. It's what makes this a really special place to work. And we were proud to team up with the 49ers and Spurs to support this event and create a memorable afternoon for 75 special kids.
A Levi's® goody bag was presented to each of the students. They were also given a voucher to purchase an item of their choice at the Levi's® flagship store on London's Regent Street.
The smiles on their faces were thanks enough to all organizers and athletes — and a reminder that doing good is the right thing to do.
Top image: Action Images plc; Tottenham Hotspur;