September 17, 2013
In my line of work, I often get the question: "Why does equality for women and girls matter?"
To me, a world without equality for women and girls is like flying a plane with only one wing. To solve any of the issues of our day – from poverty alleviation to defending everyone's human rights – we need to include allpotential agents for change.
Urgent Action Fund for Women's Human Rights (UAF), the organization I lead, is the only fund of its kind to provide time-urgent funding specifically for women's human rights activists.
With support from the Levi Strauss Foundation, we protect, strengthen and sustain women's human rights activists at critical moments.
UAF responds to all requests within 72 hours, 365 days per year. Our support helps women's rights activists—including members of the lesbian, gay, bisexual and trangender (LGBT) community—remain resilient in the face of unexpected threats or take advantage of unforeseen opportunities.
Let me give you an example of one organization that did both.
Identoba is an LGBT activist organization based in the country of Georgia. Recently, members organized a peaceful march to celebrate the International Day against Homophobia and Transphobia. Although the local police had agreed to protect the marchers, thousands of religious extremists infiltrated the march and attacked hundreds of protesters.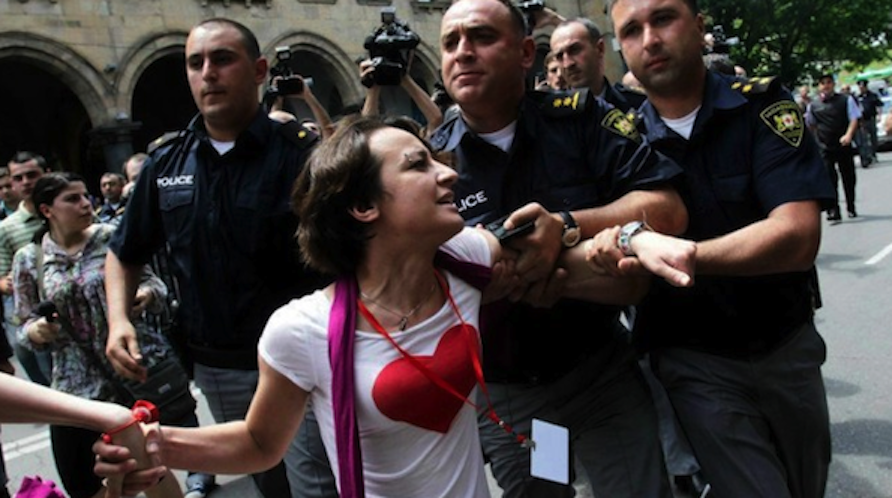 Soon after, the Georgian parliament presented a draft law intended to criminalize homosexuality. The increasingly hostile, homophobic environment led to threats against Identoba's staff and clients, and without a safe alternative, the organization considered closing its offices.
But instead of giving up, they turned to Urgent Action Fund. Within a week, we awarded a $5,000 rapid response grant to help them relocate their offices to a more secure location.
"UAF's support also allowed us to expand our scope of work and reach more women," Identoba's Executive Director, Irakli Vacharadze, later told us.
"Since then, we have offered our space to various LGBT and women artists, advocates and organizations to host lectures, public events, and exhibits. We also organized a series of workshops and trainings for the community to learn about their legal rights, sexual health, and general well-being."
In other words, out of crisis came opportunity.
That's what Urgent Action Fund for Women's Human Rights is all about: empowering women activists and their allies to build a world with peace, justice and equality for all.