May 31, 2013
We were all wet, but undeterred. Enthusiastic, in fact.
That describes our more-than-50 Levi Strauss & Co. participants in a very rainy AIDS Walk New York earlier this month.
It was 8 a.m. when my colleagues arrived at our Lexington Ave. Levi's® store meeting point. They came from throughout the city – Manhattan, Brooklyn, Queens, Harlem and the Bronx. Most were my fellow Levi's® stores employees, but we were also joined by folks from our New York sales offices.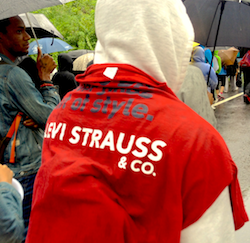 Through bake sales, potlucks and just plain asking, our team raised more than $6,500 – money that'll benefit GMHC and 40 AIDS service organizations throughout New York, New Jersey and Connecticut. With matching funds from the Levi Strauss Foundation, that dollar figure will increase significantly.
For the actual walk, we made our way from the store to Central Park. That's where we joined some 30,000 other walkers. And while the rain refused to stop, we made the most of it – accomplishing what we set out to do and making some new friends along the way.
Overall, AIDS Walk New York raised more than $5.5 million, proof that we're as committed as ever to supporting AIDS service organizations and, ultimately, giving rise to a generation free from HIV.
I'm proud of our team of walkers and what we accomplished. I'm also proud to work for a company that supports such efforts to give back to our communities. See you next year, walkers!