December 15, 2010
Levi Strauss didn't invent blue jeans to make history. At the time, he was simply doing business and trying to meet the needs of his customers – hard working Californians, trying to carve out their piece of the American dream.
But he did make history. And last night, in Sacramento, his efforts – and his business and philanthropic legacy – were recognized by his adopted state.
Levi Strauss was one of 14 new inductees into the California Hall of Fame. As a proud descendant, I had the pleasure of accepting the honor on behalf of him and his family.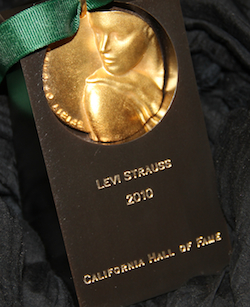 The Hall of Fame was conceived by First Lady Maria Shriver to honor legendary people who embody California's innovative spirit and have had made their mark on history. It's a description that certainly fits all of this year's honorees, including Levi Strauss.
Originally from Bavaria, Levi sailed to the United States in 1847 to join family in New York. He left for San Francisco in February of 1853, just one week after becoming an American citizen.
Twenty years later, he partnered with Jacob Davis, a tailor in Reno, Nevada, who had started making men's work pants with metal rivets for strength. In 1873 these two immigrants – the tailor and the merchant – combined their talents to create the most American of garments: the blue jean.
Gov. Arnold Schwarzenegger, who joined his wife in hosting last night's ceremony, said the Hall of Fame is a great way to honor those whose dedication, determination and courage have made history.
And Gov.-elect Jerry Brown said the reason the honorees, including his late father, Gov. Edmund G. "Pat" Brown, were successful is because they were "go-getters," people who didn't sit around and pontificate, but who worked hard and got things done.
It was a privilege to spend time last night with the other honorees, including Facebook Founder Mark Zuckerberg, singer and actress Barbra Streisand, and celebrated artist Wayne Thiebaud, just to name a few.
But the best part of the evening was seeing the founder of this company honored for not only inventing blue jeans and, ultimately, creating a global, iconic brand, but also for being in integral part of the amazing history that has shaped the State of California.