September 16, 2010
If there's anything I like less than moving, I can't think of it right now. Oh, okay. War. Pestilence. Hunger. Stuff like that. But moving isn't far behind. Even the obligatory moving cuisine of beer and pizza can't make the badness go away.
We've just wrapped up moving day at the home office of Levi Strauss & Co. Many of my colleagues and I had been holed up in temporary quarters – just across the way here at Levi's Plaza – while workers fully renovated the main building.
This week has been spent doing our regular work – and getting settled in our new space.
But the move wasn't so bad. Not just because our newly renovated building features views of Coit Tower, the bay and other San Francisco landmarks. But also because of how the remodel was done.
Think green. And blue.
The approach to the renovation was to minimize its impact – and do things in an environmentally friendly way. So, green.
Our goal is LEED certification for green building practices. LEED is a third-party certification program and the nationally accepted benchmark for the design, construction and operation of high performance green buildings
And blue?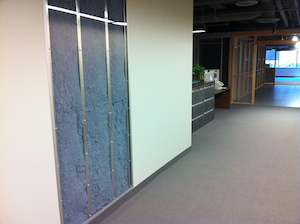 Well, that's the color of the building insulation that surrounds us. It's recycled denim. Shredded and turned into a material that will reduce heating and air conditioning costs – and keep my music from bothering the boss, who sits next door. That's a picture of it at the top of this post.
The remodel even included some windows in the walls in a few places to let you see the insulation.
Learn more about denim insulation here.
So if you make Levi Strauss & Co.'s home office one of your stops on the San Francisco tourist trail, rest assured the folks who work here are well protected from the often cool temperatures outside…by recycled denim on the inside.
Oh, and by their Levi's® jeans and Dockers® pants, as well.