Whatever your stage in life, we help you live it to the fullest – by offering 

a wealth of 

programs that help you take care of yourself, your loved ones 

and 

also

 

plan for your future.
Here are just some of the benefits of working at Levi Strauss & Co.
* Your personalized benefits package will depend on your position, location and other eligibility requirements. 
U.S.-Specific Benefits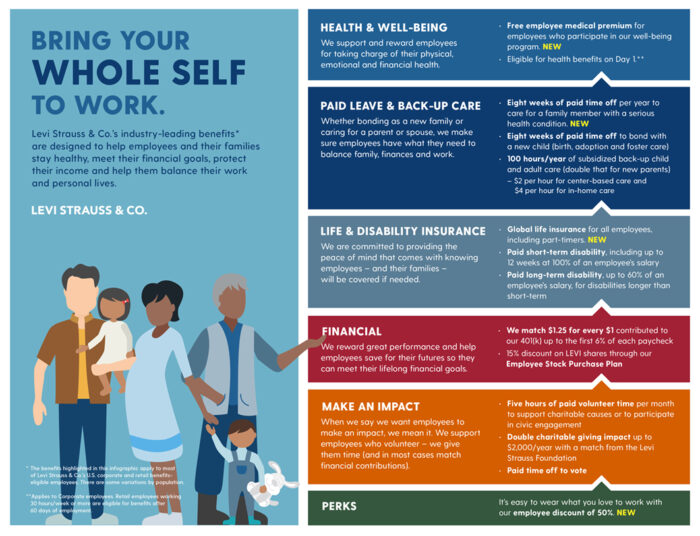 General Benefits
Health Benefits

 


In most locations, our flexible benefit options let you choose medical, dental, vision and life insurance plans that fit just right.

 

Employee Well-Being

 


Our success as a company starts with happy, engaged and healthy employees. Our wellness programs offer financial incentives, team challenges, tools, and ongoing support to help you get there.

Paid Time Off

 


Whether you're taking a vacation or recovering from an illness, our Time Off with Pay Program (TOPP) starts accruing from your first day on the job – all in addition to company paid holidays.

 

Employee Assistance 

 


Sometimes life happens. And when it does, our WorkLife Services program offers counseling and other confidential services – at no cost to employees.

Competitive Pay
Our competitive pay, financial incentives and retirement savings plans can help employees meet their lifelong financial goals. 
Grow Your Career 
Whatever stage you are in your career, we provide in-person and on-demand opportunities to learn, grow and make an impact on our business. 
Paid Volunteer Time 
When we say we want you to make an impact, we mean it. Volunteer with a cause that matters to you – and we'll pay you for your time (and in most cases match your financial contribution).
Product Discounts 
It's easy to wear what you love with our generous employee discount.
Culture Of Recognition 


We celebrate our employees for all they do to make our company great, and a great place to work.