June 7, 2023
Last week, we added our newest Levi's® mainline store to the roster at the Ala Moana Center in Honolulu.
"We're thrilled to bring the elevated Levi's® brand experience to Hawaii and further expand our physical footprint across the U.S.," said Steve Cano, senior vice president of U.S. direct to consumer (DTC) for the Levi's® brand. "As a popular location and prime tourist destination, the Ala Moana Center in Honolulu is the perfect location to not only deepen connections with current Levi's® fans but also build lasting, memorable experiences with new consumers. It's a beautiful store in a beautiful location, and I'm extremely proud of the team's flawless execution to bring the store to life."
To celebrate, the team worked with Hawaiian-born artist Aaron Kai to bring a locally driven activation to the grand opening. Aaron created 25 custom pieces across pairs of Levi's® 501® jeans and Trucker jackets, highlighting his unique art style while welcoming the Levi's® store to Hawaii. The pieces were then moved to the store, where they were sold throughout the weekend while Aaron did live customizations for consumers who shopped in the store.  
"It means a lot to be working with a brand that's known worldwide … and to be a native Hawaiian and getting the opportunity to put on and showcase my talents on such an iconic product like a Levi's® 501® jean and Levi's® Trucker jacket," Aaron shared on the brand's Instagram page. "It means a lot to be chosen to represent Hawaii, and I take that with a lot of kuleana and responsibility."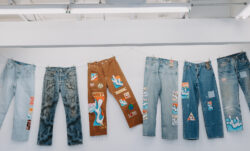 The role of physical retail is a key pillar in our DTC strategy. As mentioned in our 2022 Annual Report, we plan to open approximately 80 net-new owned-and-operated stores across our portfolio of brands this year, including around 15 Levi's® Next Gen stores in the U.S. We're off to great start so far in 2023; in the first quarter, we opened 25 Levi's® stores globally and five mainline doors in the U.S.
Visit the Levi's® website to check out its latest product assortment and learn more about the brand.