March 22, 2023
The United Nations estimates 2 billion people around the world are living without access to safe water, primarily in countries where the demand for water exceeds its availability. Given this, we know it is incumbent on us to find ways to mitigate the water impact of our operations.
Some ways to limit our impact are by setting geographically relevant water use targets for suppliers based in areas experiencing high water stress, and increasing the number of products made in Water<Less® facilities and in facilities that recycle and reuse water.
For a product to be considered Water<Less®, it must be produced using certain techniques, and we also use Jeanologia's Environmental Impact Measurement (EIM) platform to track and reduce water use in garment finishing. When a product receives an EIM water score of "green" — which means 35 liters of water or less was used in the finishing stage of a pair of jeans — the product is then designated as Water<Less®.
Here's a breakdown of the percentage of Water<Less® bottoms across the majority of our brands in 2021: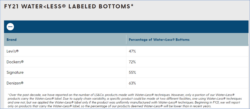 "Given a pair of jeans requires water throughout the entire manufacturing process, from growing the cotton to finishing techniques, 35 liters at the finishing stage may seem like a small thing," said Byron Thayer, senior manager for sustainability data and performance. "But for us, it's one of the ways we contribute to our overall goal of reducing freshwater use in manufacturing by 50% in areas of high water stress."
Through tools like Jeanologia's EIM, we're working to bring greater resilience to our operations and to the communities and watersheds affected by our business. We're encouraged by our progress and will continue to seek ways to be good stewards of this precious natural resource.