March 8, 2023
This month, LS&Co. is proud to celebrate and recognize Women's History Month in the U.S., a time to acknowledge and honor the invaluable contributions women have made to our society. Today, International Women's Day (IWD), takes the celebration global.
This month, chapters of Rivet, our global women's Employee Resource Group (ERG), are leaning in to help us embrace equity at LS&Co.
Lifting Each Other and Sharing Our Stories 
Our celebration began in our Asia, Middle East and Africa (AMA) region with an array of discussions and corresponding activities centered around this year's theme —#EmbraceEquity— led by the region's local Rivet chapter.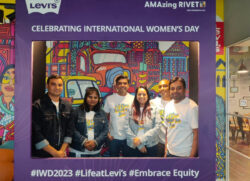 On March 14, the discussion continues with our U.S. Rivet chapter — in partnership with our SOL Hispanic/Latinx ERG — as they welcome Tricia Montalvo Timm, author of "Embrace The Power of You," to sit with employees and dive into a fireside chat on how women everywhere can be their authentic selves every day.
Our Rivet Europe chapter will continue the celebration with South Europe merchandising lead, Anne-Catherine Lepas, who will lead "How She Got Here," a discussion surrounding career progression insights.
As the month progresses, the ERGs will continue the discussion and will share tips and tools on how to embrace equity through sessions on self-compassion for ambitious women and ways to navigate and overcome imposter syndrome.
"As the Women's ERG, we believe it's critical to utilize our platform to advance women's rights, and to foster a strong, supportive community that drives conversations around women's needs for those at and outside of LS&Co.," said LS&Co.'s Global Rivet Leadership Team.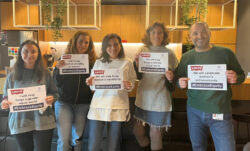 We're also proud to continue growing and expanding our global ERG community with the launch of a new chapter of Rivet in Latin America (LATAM).
"We could not be more excited to have an official Women's ERG in the cluster. Latinas are strong — we are brave, fearless, passionate — and a little bit loud, too! It's amazing to have a voice, to be heard, to keep going in a society where women are more vulnerable due to the social and political environment," said Adriana Flores, LATAM Rivet executive sponsor. "We heard from the women in our cluster that they want a safe space to speak up without judgment, to have a voice, to collaborate, mentor one another and celebrate each other's victories, both professionally and personally. I am excited to see what we can achieve together and with our allies."
Our Continued Commitment 
LS&Co. has a track record of standing up for gender equity in our workplace. We've established industry-leading paid medical and parental leave policies and long advocated for a similar national (U.S.) law. We continue to advocate for pregnant worker protections and remain committed to covering contraception in our own plans despite shifting legislation. Through the Levi Strauss Foundation (LSF), we support access to reproductive health services for people in marginalized communities internationally and domestically. In addition, our annual Seen & Heard women's summit helps us evaluate issues of importance to women and their allies.
This year, as part of LSF's partnership with Mercado Global, an accessory brand and nonprofit that empowers rural Latin American women to become entrepreneurs, LS&Co. employees will have access to refreshed and expanded offerings of Mercado fabrics to add to their favorite pieces so they can wear what they love and stand for.
In these ways and others, we're fully committed to making LS&Co. a place where women — and all employees — can be their best and authentic selves and experience fulfilling and lasting careers.