November 30, 2022
Each year at LS&Co., we pause to celebrate and recognize the incredible achievements of women through our Seen & Heard Women's Summit.
As part of our efforts to advance our culture of inclusion and belonging, this three-day program is open to all employees, regardless of gender, and promotes the empowerment of women while addressing real issues in a safe, supportive and brave space where we can all grow together.
In light of the unprecedented events of years past, which forced women to carry the brunt of economic and sociopolitical fallout while reducing access to resources and opportunities, our theme for this year's summit was "Forward Together."
2022 Summit Highlights
Nearly 1,600 employees globally joined us for the discussion. We also held a special edition session for our colleagues in Bangalore.
Deja Foxx, a reproductive rights activist, and two of the audience's favorite speakers, our own Chief Transformation Officer, Heidi Manes, and Los Angeles Fire Chief, Kristin Crowley shared their personal journeys to leadership.
Participants heard how GenZ women are already leaders of today; gained a better understanding of the lived experiences of non-binary leaders across varying cultures; celebrated LS&Co.'s first women-led store in Lahore, Pakistan; and received encouragement in holding strong in the fight for reproductive justice.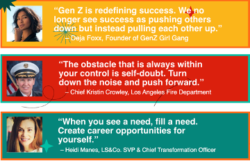 What Employees Had to Say
"Seen & Heard is an event that makes me feel bonded to the company and our values."
"The guest speakers were diverse with incredible stories and perspectives that truly make an impact on an individual and societal level. Not only a moment for women to be Seen & Heard, but relatable to everyone, if you're open-minded and receptive. Truly made me proud to be a part of the LS&Co. community."
"The sessions I attended really inspired me and opened my eyes to a lot of things I never thought of before. It was all great and positive. I am very grateful that the company has these types of sessions and opportunities to spotlight other inspirational women who make a difference and an impact in society today."
Our Continued Commitment
With more than 50% of our workforce identifying as women, we recognize our responsibility to use our social voice and platforms to discuss real issues and celebrate the champions making a difference. As we honor the legacy of leaders who have blazed a trail for change and inclusion, we also look ahead to the next generation of leaders who will continue the fight for equality.  This is why this summit is so important and an opportunity to inspire and empower our most dominant employee population.
We see the contributions and sacrifices of all of our women employees, and we will continue working incessantly to support and prioritize both gender equity and the well-being of all who work here.
Learn more about the work we're doing to advance our culture of inclusion and belonging.