April 11, 2022
As part of our ambitious plans to accelerate sustainable business growth and drive commercial success, Levi Strauss & Co. is launching new stores, refreshing existing stores and rolling out new in-store services at several locations across the East Asia Pacific (EAP) region, with plans to launch more than 100 locations in Thailand within the first half of 2022 alone.
"Thailand is an important market for us, and Levi's® is recognized as the No. 1 jeans brand here," said Sameer Koul, general manager for Southeast Asia. "Through digital innovation we are reshaping brand experiences for a younger generation of style-conscious consumers, and we will stay true to our values by placing people at the heart of our business and by being an advocate for positive change through responsible practices."
The broader plan is central to the region's growth strategy to drive diversification of the business across geographies, apparel categories and distribution channels.
New stores planned for this year include Levi's® stores in Japan, Australia, Indonesia, Singapore, Malaysia and Thailand. We will also refurbish several of our retail stores and shop-in-shops into NextGen Indigo store formats, offering an elevated store experience that uses digital tools to streamline the consumer journey, including LED portal entry archways and LED screens for immersive experiential content. Select stores in the region will also introduce in-store tailoring services for greater personalization.
As the global retail market continues to find its new equilibrium, we continue to focus on these kinds of enhancements to fuel our omnichannel engagement, leveraging the hybrid consumer experience model to offer options such as Buy Online Pickup In Store (BOPIS).  We're also committed to our digital transformation efforts, leveraging digital, data and AI to stay ahead of trends driving efficiency and innovation in everything from product creation and omnichannel offerings to direct-to-consumer (DTC) capabilities and beyond to continually enhance the consumer experience.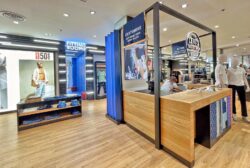 "We are committed to the future success of our business at every level and are reimagining what we do and how we do it win in today's marketplace. We are gearing up to make strategic changes to our business model and operations, and we are embracing the technologies of tomorrow to power innovation and better serve our consumers and deliver greater value to stakeholders," said Nuholt Huisamen, managing director and senior vice president for our East Asia Pacific region.
"We will do this by placing people at the heart of our business and through responsible practices because being a force for positive change is integral to being the world's best apparel brand."