June 30, 2021
For many during the COVID-19 pandemic, "working remotely" meant a couch, a makeshift home office, even a shady spot in the backyard.
Not for Kathleen Lynch though. A manager on the global sustainability team here at Levi Strauss & Co., she opted to take remote working a step further — and a few thousand feet higher.
Last year, she packed up her laptop and a Wi-Fi hotspot along with a few solar panels to power them and headed out to the backcountry of the Continental Divide Trail — a 3,100-mile corridor of wilderness that stretches from Mexico to Canada and passes through New Mexico, Colorado, Wyoming, Idaho and Montana along the way.
For four months, she worked from her tent during the week, and on weekends she volunteered on socially distant trail crews, surveyed land for GIS projects and collaborated with partners challenging mineral and gas exploration in wilderness areas.
Thanks to LS&Co.'s benefits, Kathleen got both paid time off to volunteer and was able to earn rewards to donate back to the nonprofit Continental Divide Trail Coalition. "Paid volunteer time and donation matching are benefits that other companies cut in lean periods," she said. "It speaks to the integrity of LS&Co. that these benefits exist even in the toughest years."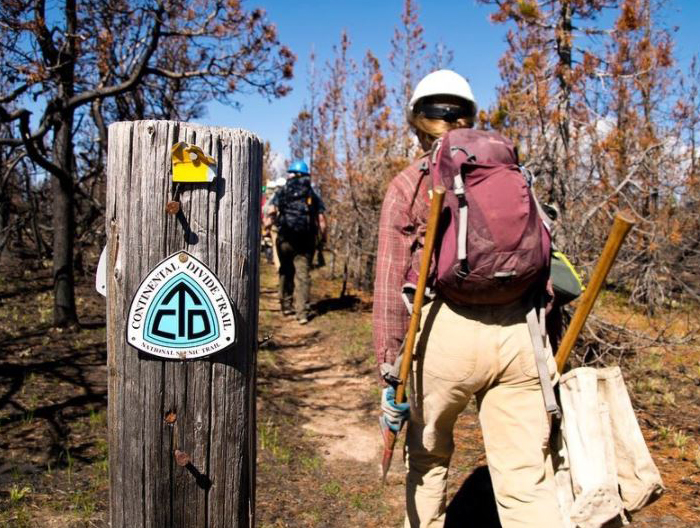 The Continental Divide Trail is one of the most significant trail systems in the world, the ancestral home to 14 indigenous communities, the watershed for 80 million Americans, the habitat for hundreds of species of animals and one of the largest carbon sinks in the United States.
"I feel a cellular connection to those woods and canyons that drives the work I do with the Continental Divide Trail Coalition," saids Kathleen, who is also vice president of the organization's board of directors. "When humans first came to the Americas, they walked along the Continental Divide, settling in its shadow. Fifteen thousand years later, anyone can walk those same trails through mountains that are the culmination of 80 million years of tectonic and glacial activity."
Volunteering with the coalition has shown her a wide spectrum of humanity, from the most uncharitable impulses to startling generosity. "I've learned so much about perseverance and diplomacy in witnessing communities weather socioeconomic devastation, adapt to climate change and find a way through bitter land use disputes," she said.
Kathleen credits LS&Co.'s matching-donation program for the extra support she was able to put toward her cause. "For small nonprofits, time and money are constant scarcities," she noted. "Donation matching has allowed me to double my impact and be a meaningful partner to an organization that I deeply love."