February 8, 2021
In late 2019, we launched the first-ever Levi's® app in North America, marking a big step forward in the evolution of our digital shopping experience. The app offered fans a new way to connect with their favorite denim brand, introducing exclusive access to limited-edition products, promoted events and interactive content.
To celebrate the one-year anniversary of its launch, here's a look back at how we used the app in our omnichannel strategy in 2020, plus a sneak peek of what to expect in 2021.
Blending Shopping and Storytelling
The vision for the Levi's® app is to build a deeper relationship with our fans and tell our most elevated brand stories, while also providing new ways to purchase our product. Mixing product with editorial and brand storytelling on one elevated digital channel allows consumers to purchase premium collaborations, shop exclusive product drops and get access to the associated rich brand content.
"All of this has offered a new way for long-time fans to connect with the Levi's® brand — while also gaining some new fans along the way," said Anisa Kumar, Managing Director U.S. Direct to Consumer (DTC).
One of our most exciting drops last year was the Levi's® Vintage Clothing limited-edition Albert Einstein jacket. In 2021, we have more exciting slate of drops planned, including the Levi's® x Pokémon collection and the Levi's® x GANNI collaboration. This strategy is resonating with consumers, particularly younger ones.
"We are seeing phenomenal engagement with the app by our fans, 70% of which are Gen Z or millennials. In its first year, this far exceeded our expectations," noted Anisa.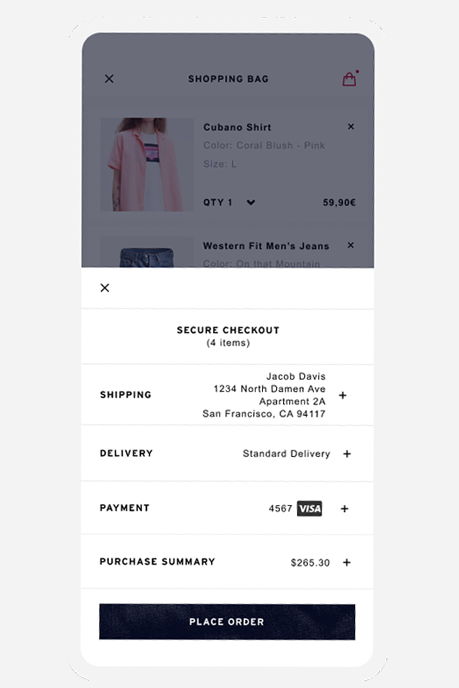 DTC Goes Virtual
The app team knew they'd need to work diligently in the app's first year to ensure they were serving up engaging product and brand experiences that would keep consumers coming back for more — but no one thought they'd need to do that during a global pandemic.
As COVID-19 changed the way consumers shopped around the world, the team was tasked with enabling experiences that allowed consumers to shop worry-free and still get the Levi's® products they love. The team launched the ability for consumers to buy products online and pick it up in their preferred store, getting them their favorite Levi's® items quickly and safely.
The team also enhanced the Levi's® Red TabTM Member Program through the app by rolling out a loyalty barcode that allows consumers to present their loyalty ID in-store, which stylists scan to retrieve their personalized offers and benefits. At nearly four million loyalty members around the world to date, the Red TabTM Member Program continues to grow and offer fans fresh, uniquely Levi's® experiences.
Looking forward this year, the app team will enhance and optimize the functionality and experience, remove any friction points in the shopping journey and launch more "contactless" shopping features for in-store experiences  to help ensure the safety of consumers and store associates. The free shipping perk for in-app purchases currently available to U.S. Red TabTM members will also be expanded to Europe. In addition, the app will be rolled out to Germany, France and the Netherlands in 2021, following our successful launches in the U.K. and Belgium last year.
"With a 4.9 iOS app store rating, it's clear consumers are receptive to what was accomplished this last year, and the Levi's® app will continue to hit the ground running with more," Anisa said.
Don't have the app yet? Download the Levi's® app in the Apple App Store and Google Play store today. And if you have it, give us a rating!