November 4, 2020
As the COVID-19 pandemic continues to rage on, we are recognizing employees and teams going above and beyond to ensure that our business emerges from the crisis stronger. Calvin Murphy, transportation operations supervisor at our Henderson, Nevada distribution center (DC), shares his story.
What Calvin does: Calvin and his team coordinate customer orders that are allocated to the DC, making sure that orders are shipped out to our wholesale customers and to our Direct-To-Consumers channels on time.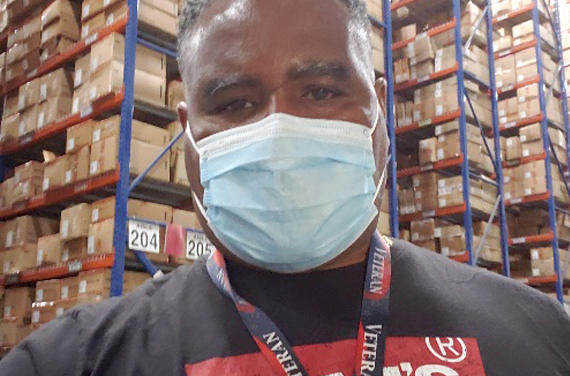 What he has been doing since the pandemic started: When COVID-19 hit and store doors closed in the U.S., the DC team's work shifted to supporting our ecommerce business and a few of our largest wholesale customers. As the medical emergency response team leader in the building, Calvin helped roll out a plan for having employees enter and work in the facility safely during the pandemic.
Our No. 1 goal is to make sure everybody is safe and leaves our facility the way they came in.
He and the team adapted quickly to implement new procedures and protocols so everyone working at the DC was protected and felt at ease even as their work shifted from supporting wholesale customers to our ecommerce business. This included ensuring that everyone had proper PPE and was following guidelines for social distancing as well as sanitizing and disinfecting their equipment. There are now also new procedures in place for employees entering the building that includes getting their temperatures checked.
Going above and beyond: Thanks to Calvin and the team's work, the Henderson DC has continued shipping our products to our fans, all while keeping our employees safe. He is part of a broader team that has worked throughout the entire duration of the pandemic, ensuring our business moves forward.
What Calvin is most proud of: "My team. It's hard enough going into a hot trailer and loading or unloading it, and they've been doing it while wearing PPE. While the rest of the world was at home trying to figure out what to do, they were here getting the job done. I was in the Air Force for 24 years, and I've never seen a civilian team mobilize like that under this amount of uncertainty. They come in, they do their job, they follow the guidelines, and nobody complains. And they continue to get it done — we're back to handling the numbers that we had forecasted for before COVID-19 hit, and we're doing it safely. I'm very proud of how they responded."