September 23, 2019
When Levi Strauss & Co. rolled out Science-Based Targets for reducing carbon emissions across our global supply chain last year, our facility in Henderson, Nevada knew it needed to get more aggressive about going green. Standing by its commitment to invest in renewable energy, Sky Harbor will now be the first LS&Co. distribution center to install solar panels in 2020.
"Sky Harbor has been our pilot test facility for a number of initiatives– from pursuing the Leadership in Energy and Design (LEED) certification to implementing Future Finish – so we thought it'd be a great place to launch our commitment to 100% renewable energy, with on-site solar panels," said Liza Schillo, a senior manager on LS&Co.'s sustainability team.
The solar panels, to be built over the facility's parking lot in January, will provide two major benefits. The first is solar energy, which is expected to cover about a quarter of the distribution center's energy needs. The second is respite from the scorching Nevada sun.
"It's an employee wellbeing initiative, too," Liza explained. "Sky Harbor is in the middle of a desert so if you can give people shade when their car is otherwise going to bake out there eight hours at a time, that's a nice added benefit."
Liza hopes this solar energy project will help the Henderson center maintain its LEED Platinum status, the highest rating given to green buildings by the U.S. Green Building Council. Achieving this honor is no small feat – in fact, Sky Harbor is the first facility in the apparel industry and second in the country to be recognized. Fewer than 7 percent of commercial LEED buildings globally qualify for Platinum, and those that do must demonstrate a substantial role in protecting the health and wellbeing of its occupants and our planet.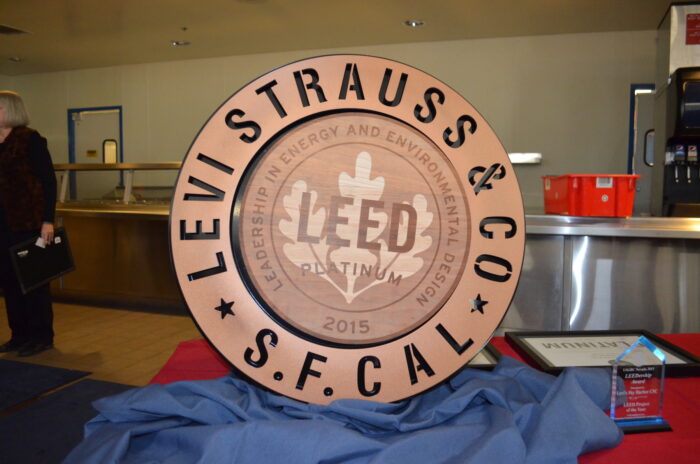 The upgrades Sky Harbor has implemented so far include installing a highly reflective white roof, switching to LED lighting and power-saving motion-sensor lights, replacing vending machines with Energy Star kiosks featuring healthier snacks and diverting more than 90 percent of its waste from landfill. (To figure out what exactly was being thrown away, one employee even dumpster dived to sort through the trash – now that's what we call getting down and dirty for sustainability.)
"Achieving the LEED Platinum certification required a great amount of very detailed, hard work, but it shows that with a great team you can accomplish anything and make an impact for sustainability," said Mark Yateman, manager of Environment, Health and Safety Compliance, who was a major player in making the certification a reality.
Located in the driest state in the U.S., Sky Harbor also focuses on cutting back its water usage. A few years ago, the facility switched to xeriscaping and restored the property's landscape to a natural desert environment, saving nearly 10 million liters of water every year. Sky Harbor also installed low flow fixtures in the sinks, freeing up more than 325,000 liters per year.
While all of these features distinguish Sky Harbor from other distribution centers, the ultimate goal would be for these sustainability efforts to be replicated across the supply chain – for Henderson to become the rule rather than the exception.
"We want to lower our carbon emissions and demonstrate that commitment to our suppliers, who make up two-thirds of our carbon footprint," Liza said. "If we can show them that we're walking the walk, it makes it a little easier for them to make that decision, too."