August 22, 2019
Half of the world's projected 8 billion people will be living in water-stressed areas by 2025, according to the World Health Organization. Population growth, climate change and excessive withdrawals have put a strain on this already limited resource, which is why Levi Strauss & Co. is aiming to do its part to save as much water as it can, particularly where it matters most.
We have announced a new Water Action Strategy where we are committing to reduce the amount of water we use in manufacturing in highly stressed areas by 50 percent by 2025*. Our ultimate vision? We will use only as much water as replenishes naturally wherever we operate. To this end, we will help all of our key suppliers (representing 80 percent of total product volume) become distinguished Water<Less® facilities by 2025.
"We all know that water is perhaps the most critical resource on the planet and that many places, including countries the apparel industry sources from, are struggling with water crises," said Liz O'Neill, Executive Vice President and President of LS&Co.'s Global Product, Innovation, and Supply Chain. "This announcement is an illustration of what sustainability means to us now: innovative, responsive, scalable programs that drive impact and inspire collective action to address the most pressing social and environmental issues facing our business, industry, and planet."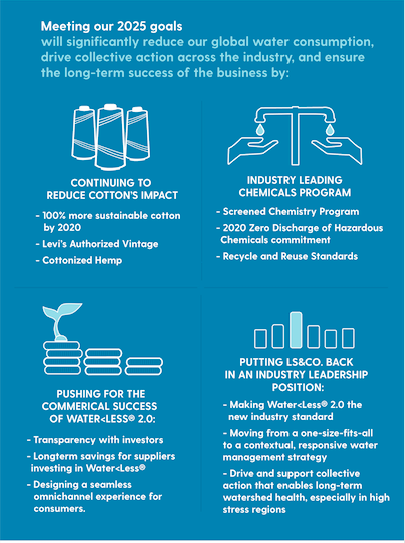 A new Water<Less® approach
In 2011, we began implementing the Water<Less® process in our design and manufacturing pipeline, reducing the amount of water used in the finishing process. This has helped us save some 3 billion liters of water and could, we believe, save the apparel industry 50 billion liters of water by 2020 (which is why we open sourced the process).
Our peers have taken similar approaches, driving water efficiency improvements across the apparel supply base. Now that we've successfully scaled Water<Less®, it's time to scale its impact.
We are using the best available water-stress data to develop manufacturing facility-level targets that addresses local water stress. If a factory or fabric mill meets its target – meaning that it adheres to sustainable consumption levels appropriate for its local region – then that facility and its products receive the Water<Less® distinction. Through this targeted, contextual approach we believe we will make significant progress towards alleviating local water stress where we operate.
Furthermore, we will help all of our key suppliers achieve the Water<Less® designation by 2025, utilizing tools and programs like our existing Water<Less® techniques, our collaboration with the Apparel Impact Institute's Clean by Design program, and our partnership with the International Finance Corporation's Partnership for Cleaner Textiles (PaCT).
This is a more evolved strategy that addresses areas outside our direct control (akin to what the company did last year when it released its science-based targets on climate change). Data-driven and outcome-oriented, the new approach will heighten both the sustainability and resiliency of the company's supply chain, while extending that resiliency to the watersheds and communities that support it.
Other core elements
In addition to the evolution of our Water<Less® approach, we are also committing to:
Collaborate with suppliers, other brands, NGOs and those at the local level to develop programs that improve the long-term health of watersheds in key sourcing locations.
Partner with suppliers to promote greater access to water for surrounding communities where safe, clean drinking water is hard to find.
Continue to reduce the amount of water required for cotton cultivation by collaborating with organizations like the Better Cotton Initiative to implement better farming methods, while simultaneously continuing to explore alternative raw materials such as hemp and regenerated fibers that can reduce water used in the cultivation phase.
Continue our industry-leading work on chemicals, which includes not only our 2020 Zero Discharge of Hazardous Chemicals commitment, but also our own open-sourced Screened Chemistry protocols, which prevent hazardous chemicals from entering the apparel supply chain.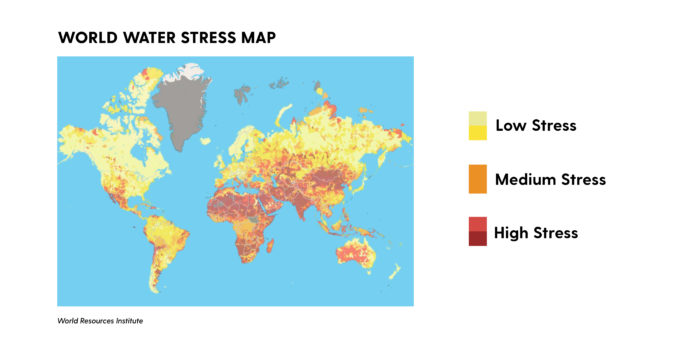 In areas of high-water stress, many suppliers are already making significant investments in water efficient machinery and water recycling, recognizing it as a necessity for their business. And we will support and advance these efforts because we know building resilience to water stress is ultimately far less costly than responding to shortages and it benefits surrounding communities. They also reduce a supplier's operational costs.
We recognize that water demand and scarcity are variable and our prior efforts at the manufacturing stages reflected a "one-size fits all" approach that did not address the geographic nuance of water stress. Our new strategy will increase access to clean, safe drinking water for communities in sourcing locations, and drive collective action that delivers lasting change. 
"Given the water context in many countries, we have to act quickly and wisely," said Michael Kobori, VP of Sustainability at LS&Co. "We feel this strategy does both, while delivering benefits to numerous stakeholders in our business and in supply chain communities around the world."
* Against a 2018 baseline.