July 29, 2019
In 2018, Levi Strauss & Co. ushered in an industry game-changer, a new digital design and finishing technology that had the potential to enable a more responsive supply chain while vastly reducing the number of chemicals needed for the finishing process. Known as Project F.L.X., the model uses laser-powered technology to apply finishing designs to jeans, a capability we are now putting in the hands of consumers through an option called Future Finish that represents the next level of denim customization.
Future Finish is a new online personalization experience where consumers can now go to levi.com to create their own jeans, from the fit down to the patterns, patch and wear. Future Finish allows us to change the prevailing denim/apparel model from selling what you make, to making what you sell – helping us better adapt to consumer demand and deliver the products they want most.
Of course, the design is in the details. And thanks to folks like Bart Sights, VP for Technical Innovation, who is considered the architect of Future Finish, those details are what really elevates this capability. We sat down with the man behind the laser tech curtain to talk about what Future Finish means for consumers and why this is just the beginning when it comes to this technology.  
The evolution of denim finishing
Ultimately, we want to be first. We want to introduce to our fans the latest and greatest, and this is definitely it.
Bart: The transition of this technology moving from the factory floor to online to hopefully retail in the future is really fast. It's definitely felt really fast for us. But I think the most important thing is that it's proving that when we talk about this end-to-end digital platform – where you take a digital file, pivot back to product creation, design and develop the product, and then you can pivot immediately to manufacturing (whether in a factory, our Sky Harbor Agility Center for online orders or eventually to a retail space) – it's all the same. And that's the beautiful thing about it.
We're also constantly driving down the number of chemicals that we use – all jeans designed by consumers online through Future Finish will be produced with 100% recycled water, which is incredible.
Ultimately, we want to be first. We want to introduce to our fans the latest and greatest, and this is definitely it. When we first launched F.L.X., the industry and our competitors didn't really understand it or believe it but now they're starting to wake up to its technology from a supply chain standpoint. And now, when they are just believing that– BAM! – we're hitting them with a consumer experience that just knocks your socks off. So, it's important to stay ahead.
Customization – now in 3D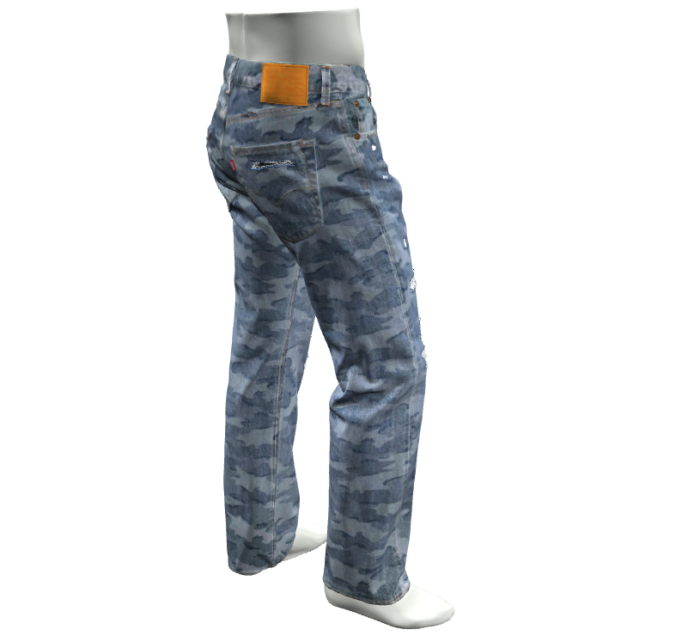 It was important that we pushed ourselves here at the Eureka Innovation Lab to create the innovative experience the ecommerce team was really expecting from Future Finish. The thing we're most proud of in this process is that we were able to move our digital tools from a 2D format to 3D here in Eureka. We felt very strongly that we needed to do this because it needed to look so real. And that's the thing we're most proud of, that we didn't have to outsource it which in my opinion has made it a lot better quality.
It's been quite an education translating those beautiful assets that we came up with here in Eureka into a setting that ecomm could use. It's been a huge, heavy lift and I have a lot of respect for the ecomm team for hanging in there and trusting that we could finally get there. The result has been a higher quality image than anyone ever dreamed of in denim. And because we were pushed to do this, and we did it internally, we're now immediately using these same type tools for design development internally.
Our denim, your way
We're working with the teams to think about what the next six months will look like because the whole great thing about Future Finish is that these designs can change easily. The consumers can come and see something one night, and then maybe a week later see a different offering. And we don't have to create jeans or samples to accomplish that, we can do it through these digital assets virtually.
There's still a lot of work to be done with the Future Finish technology. For us, it's a way of life now that will constantly improve. But I think from an experience standpoint, this, along with our Print Bars and Tailor Shops, can take on so many different forms. The ability to change quickly, to change the looks and advance Future Finish offerings and evolve those offerings is, in my mind, the future. We want to give the consumer what they want when they want it, and there's no better way to do that than ultimately finishing jeans in front of people. We're not there yet, but that's the ultimate evolution of this experience.