July 9, 2019
When it comes to shopping, there's finding that perfect jacket or jean that's personally right for you, and then there's personalizing that piece to perfect your look. Either way, the Levi's® brand has you covered.
Epitomizing classic American style and effortless cool, the Levi's® brand is all in when it comes to allowing individuals around the world to express their personal style. It has made considerable investments in customization experiences, like in-store Tailor Shops and customizable online capabilities on Levi.com, and those have led to iterative innovations along the way.
One such advancement came when teams asked themselves how they could marry the online experience with the in-store one as well as solve for a consumer pain point.
"When people walked into our stores, one of the first questions they would ask [about the Tailor Shops] was 'What can I do?'" said Margaret Greenberg, manager of direct-to-consumer strategy for LS&Co. brands. "So, what we did was digitize the menu of services. It helps them understand, 'Okay, here are the different services available to me, here's how much they cost, here's some really nice images so I can see visually what each service looks like.' It gives people a really basic starting point."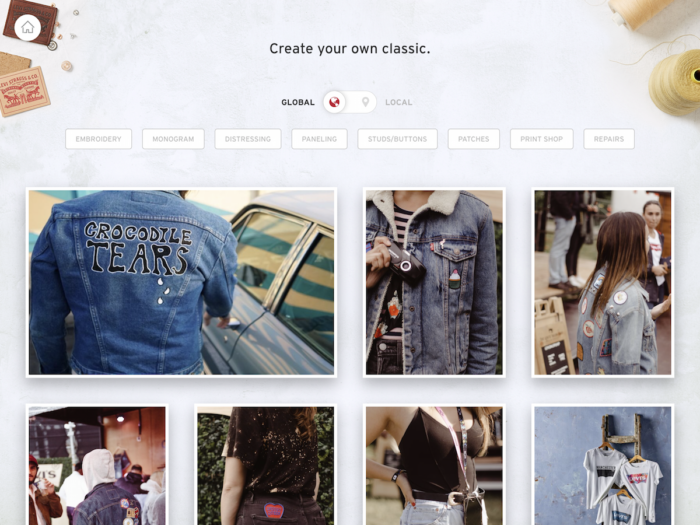 In addition to those options, one of the coolest features of the new app is an all-new "inspiration" section that allows consumers to see products created by tailors and other consumers from around the world.
"We were finding that a lot of our tailors were using sketchpads, the backs of napkins, their own iPhones or iPads to show off their work, so we wanted to create a place where we could aggregate all their designs," said Lance Relicke, vice president of Global Brand Environment. "It's creating a great sense of community for our tailors as well as just people sharing designs and being proud of what they've done."
Consumers can scroll through Tailor Shop options on iPads at select Levi's Tailor Shops – which currently include the Times Square flagship and NextGen stores in Milan, Shanghai and London.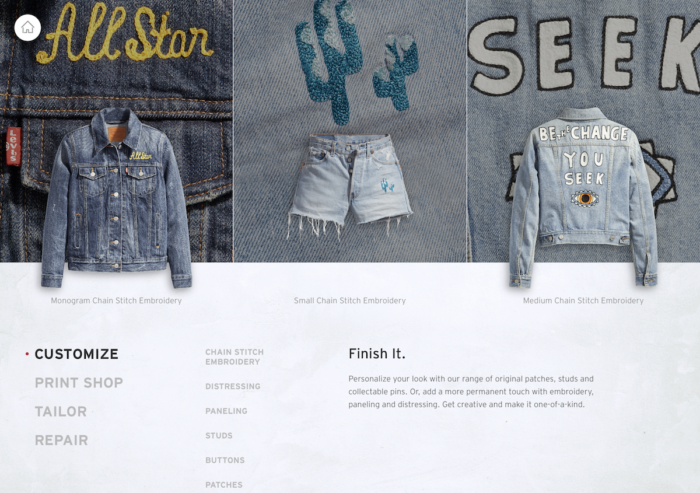 And while the consumer is always top of mind for the brand, the app is also quickly becoming a tool for store stylists as well.
"It's useful for stylists in terms of not just educating consumers but also educating themselves around what the Tailor Shop is, how it works and how they can be thinking about incorporating it more holistically into their approach when they're working with our consumers," Margaret said. "The conversation then becomes 'I understand all the fits that we have and all the finishes and I can help you outfit yourself head to toe, including adding on that customization element.'"
Knowing that that Trucker jacket or pair of 501® jeans is really just the starting point – a veritable blank canvas at the ready for your personal touches – the more insights and support the better.
Stay tuned for more to come as our direct-to-consumer team continues to evolve technologies as consumer needs dictate.