August 21, 2014
The fashion and apparel industry is always changing, and it can be exhausting to keep up with the latest trends in sustainability, innovation, and design. Our new bi-weekly "What We're Reading" column is here to make the task a bit easier with a few of our favorite reads from around the web. In this space you'll find blogs we love, people we follow, articles we're sharing and words that inspire us.
Have an article, blog or twitter handle you think we should feature? Tweet us your suggestions @LeviStraussCo.
Bookmark it: Ecouterre. Whether the topic is shark-deterrent wetsuits, self-cleaning cashmere, or  electricity-generating jewelry, Ecouterre is one of our go-to sources for all things sustainable fashion design. We love the diversity of stories they tell—highlighting innovations in fiber technology already on the market today, to more futuristic, cutting-edge applications. If you're looking for an education on the latest advancements in sustainable materials and processes, you'll find it here!
Read it: Do consumers care about sustainability? In this piece, Fashion United explores the growing importance of sustainability, speculating that it will soon shift from a "nice to have" to a "must have" feature among consumers globally. We think that's a step in the right direction and will continue to sew sustainability into the fabric of everything we do—from how our clothing is made to the work we do to help protect our planet.
Follow it: Jennifer Grayson (@jennigrayson). Jennifer curates sustainability-related news stories from a variety of sources. While she doesn't focus on fashion and apparel specifically, we love that the news and stories she finds are all about creating a better, more eco-friendly world.
Quote it: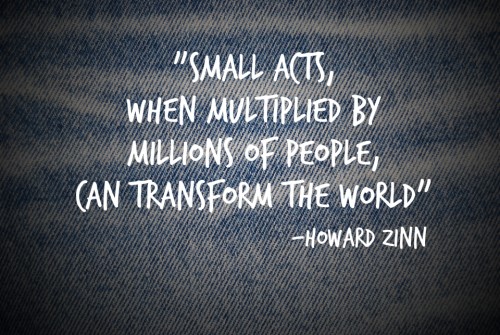 Image Sources
Flickr CC via Jacob Gube
Flickr CC via Kate Ter Harr