May 14, 2014
Kindles, iPads and Nooks aside, libraries still and will always hold a special place in our communities. It's a place where children learn to read, parents share special moments with their kids and adults gather to discuss important issues of the day. This past Saturday, Mayor Ed Lee cut the ribbon to open the newest San Francisco library – the North Beach Branch Library – and Unzipped was there to celebrate.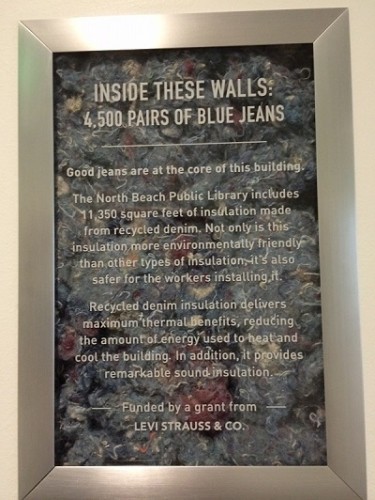 A curious fact that you may not know is that beyond the novels, autobiographies and children's books, and hidden inside the walls are approximately 4,500 pairs of jeans – and all the stories that go along with them. Levi Strauss & Co. provide a grant to the North Beach Branch Library for 11,350 square feet of insulation made from recycled denim, which delivers maximum thermal benefits, reducing the amount of energy used to heat and cool the building.
The new library branch features two floors with double height reading rooms and was built to meet Leadership in Energy and Environmental Design (LEED) Silver certification or greater from the U.S. Green Building Council. In addition, an 11.5 kW solar array, provided by the SFPUC, will help to power the 8,500 square-foot building.
It was an honor to be a part of such a memorable day for the North Beach neighborhood (Levi's® Plaza next door neighbor!) and a contributor to the construction of a place that will create memories for years to come.
Need a refresher on how we turn denim into building insulation? Look no further than this Unzipped post on the process and our relationship with Bonded Logic.