March 16, 2012
It shouldn't surprise you to learn that our recently remodeled headquarters building here in San Francisco has recycled denim insulation in the walls. About 25,500 pairs' worth.
All that blue has just added up to gold for us – in the form of LEED Gold Certification by the U.S. Green Building Council, highlighting the building's high performance in multiple areas of green design and energy use.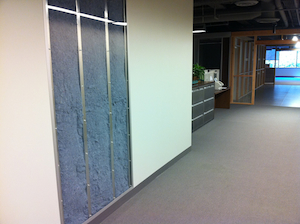 It's a significant accomplishment to achieve a gold rating on a building renovation – when you're not starting from scratch – particularly when you're working with existing mechanical systems, building design, windows and the like.
In fact, while LEED Certification had always been a goal of the project, we had originally targeted silver as our goal, given those existing constraints.
Still, as we reviewed and made each decision during design and construction – everything from building insulation to the heating and air conditioning system to lighting fixtures and beyond – we always looked for ways to drive more energy efficiency and sustainability than originally planned.
And using the lens of energy efficiency and sustainability as we examined each decision was instrumental in this LEED Gold Certification.
So let's do the numbers: In 2011, water usage in the building was reduced 42% per employee. Electricity? Down 37% per employee. And natural gas usage was down by 70% per employee.
We talk a lot at Levi Strauss & Co. about sustainability – in such things as our Water<Less™ jeans, made with significantly less water, and our partnership in growing more environmentally friendly "Better Cotton." We've also recently opened three LEED-certified retail stores – in Paris, Liege, Belgium, and Birmingham, UK.
We like to say that we build sustainability into everything we do. I think this renovation project is proof that our commitment goes beyond our product — to our practices.